I am thrilled to announce that GODS AND ENDS, book #3 in my Ordinary Magic series, is out now! Here is the amazing cover by the talented Lou Harper: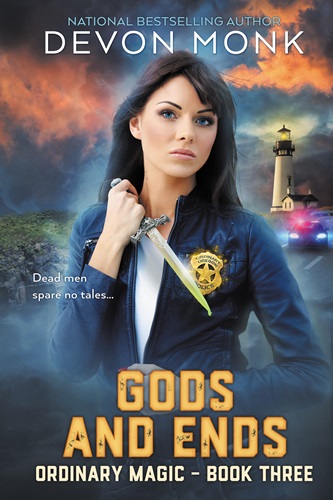 Keep your gods close and your monsters closer…
Police Chief Delaney Reed thinks she knows all of Ordinary, Oregon's secrets. Gods on vacation, lovelorn ghosts, friendly neighborhood monsters? Check.
But some secrets run deeper than even she knows. To take down an ancient vampire hell-bent on revenge, she will have to make the hardest decision of her life: give up the book of dark magic that can destroy them all, or surrender her mortal soul.
As she weighs her options, Delaney discovers she can no longer tell the difference between allies keeping secrets and enemies telling the truth. Questioning loyalties and running out of time, Delaney must choose sides before a kidnapping turns into murder, before rival crochet and knit gangs start a war, and before the full moon rises to signal the beginning of Ordinary's end.
Links:
Amazon | Barnes & Noble | Kobo | iBooks
The paperback edition can be found via this link: Link It will soon link up with the ebook editions, but until then, that link should take you to the trade paperback print edition.
I've had so much fun writing about the world of Ordinary, Oregon. So much so, I have a few more tricks (stories) up my sleeve. Keep an eye out for two short stories this year, and probably (fingers crossed) a couple books next year.
Oh, and I'll be back here blogging a little more often too.
Until next time, happy reading!!