A few weeks ago, I scheduled a couple days away at a hotel so I could put my head down and get some serious word count done on my novel. When I book a hotel for work...I do just that and
only
that.  I bring my own food, get a room with a kitchen or kitchenette, and do not go see the sights or visit friends or leave the room for the entire time I have reserved. I just work. Unfortunately, I came down with some sort of flu-like thing, so while I did get a lot of work done on the novel (the next steampunk, COLD COPPER) it wasn't the best of get-away-to-get-work-done experiences. It did however, make me realize that we were grasping the frayed edges of summer and had not taken even a weekend off for family time. So I called a quick meeting with hubby and the boys.  We could all carve out exactly 3 days before the end of September: a Thursday, Friday, Saturday.  We decided a quick train trip might be fun. The problem with the Monks and trains, is that every time we plan a train getaway, it falls through.  Once, Amtrak shut down all their service due to issues with the underbellies of the passenger cars. Another time our car blew an engine most spectacularly as we were driving to catch the train. Third time's the charm, right?  I'm happy to say: RIGHT! We caught Amtrak up to Vancouver, BC on Thursday, with a 2 hour layover in Portland, Oregon. While in Portland, we stopped at a comic shop and grabbed up some reading material. Boys read, Husband relaxed and I knitted until I couldn't feel my fingers. *happy sigh*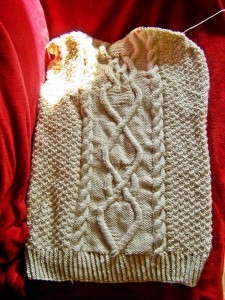 But since it was such a last-minute vacation, we had made zero plans for what to do once we arrived in Vancouver.  On Friday morning over breakfast in our hotel, we decided a day spent walking would be best since both Thursday and Saturday were 10+hours sitting on the train. We pointed at a map, and went here:
Capilano Suspension Bridge
It was a wonderful place to explore, and we had a great time! For the remaining hours of the day, we walked around our hotel area.  We found a terrifically cluttered used bookstore I could have lost half a day in, and of course, wandered through Gastown to see the steam clock,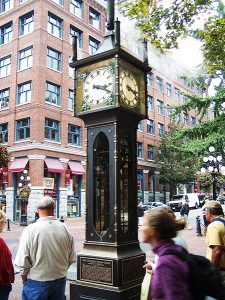 drink some coffee,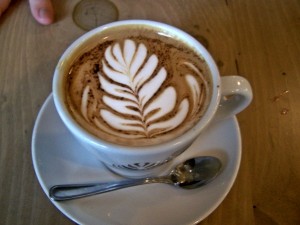 and shop the shops. Then, before dawn on Saturday, we were back on the train. Our layover in Seattle, Washington gave us time to grab some food and buy a wind-up
moon rover
that  is currently exploring our refrigerator surface.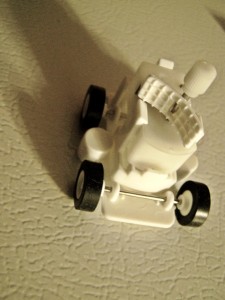 All-in-all it was a wonderful mini-vaca.  Just goes to show that sometimes the unplanned, spur-of-the-moment stuff in life is the most fun. 🙂