Winners have been announced! Click here to see if you won.
Hello there! Sorry I've been away from blogging for so long.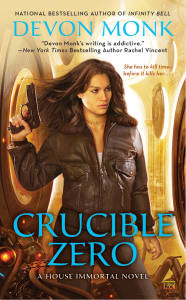 It has been a busy spring-into-summer around here. I've been writing like crazy on some projects I can't reveal yet. I do try to peek in on Twitter and Facebook with some regularity. If you want to follow me there too, just click the buttons you might see on the right. 🙂
Today I have good news! I am holding, in my hot little hands, six (6)! advance reader copies of CRUCIBLE ZERO, book #3–the final installment–of my House Immortal series.
Book #2, INFINITY BELL left Matilda in quite a game-changer situation (shhh….no spoilers). CRUCIBLE ZERO picks up right where we left her: facing big decisions, changes, and chances.
CRUCIBLE ZERO doesn't come out until September, but I'm going to give a copy to six commenters (chosen by the random number generator, natch) here on my blog.
The details:
These do not have the pretty cover. They do have a couple typos and a formatting glitch or two. 🙂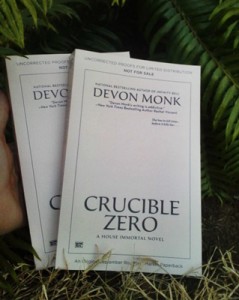 I will draw winners Tuesday, July 14th and post winner names here on my blog. Please check back!
If a winner does NOT contact me with their mailing address, I will give away the unclaimed ARCs on on my blog on Monday,  July 21st in a speed round of first-comment, first-wins.
And that's it! So how has your summer (or winter, if such season applies) been going so far this year? Seen any good movies? Read any good books?