I want to write a post about the terrific time I had at the
Rainforest Writer's Retreat
last week--and I will. I promise! But first, the Octopus. So, when
Patrick Swenson
invited me to the Rainforest Writer's Retreat, my email was added to the group's loop. A few people started talking about the mysterious--and endangered--
Pacific Northwest Tree Octopus
whose major predator is Sasquatch. At the same time, I was asked if I might want to donate a prize to the raffle. Right then and there, I knew I'd have to knit a Pacific Northwest Tree Octopus as a giveaway prize. But how to do it? I'd never knitted one of the rare beasties before, and they are
notoriously shy creatures
. Luckily, I found this adorable
Knitting Octopus pattern
by Max Alexander.  I was tempted to give him a fancy top hat, but this was an Octopus from the forests of the Pacific Northwest. He needed a beanie and a big cup of coffee. Since he was going to be found at a writer's retreat, I thought he might also have his laptop and editing pencil handy. Thus began the knitting. Our friendly little octopus wasn't always so friendly looking. Brace yourself for some disturbing photos: Here is his eye, strung out between metal needles!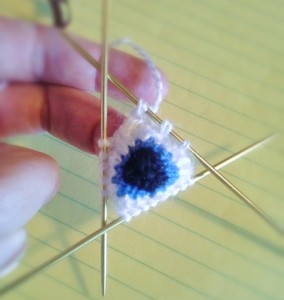 Here is his boneless body, hanging out with the tiny anarchy chicken with a sword. Spooky, right? But I knew I could knit the spook out of him.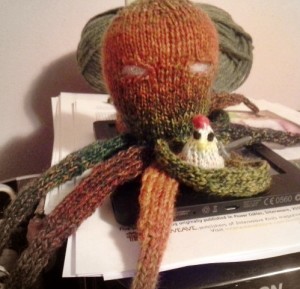 I knitted some accessories.  First,
a pencil
: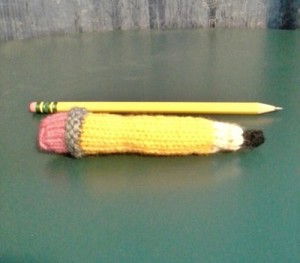 Then a
wee little laptop
: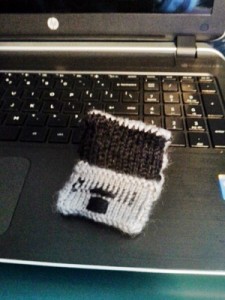 Then a cup of coffee: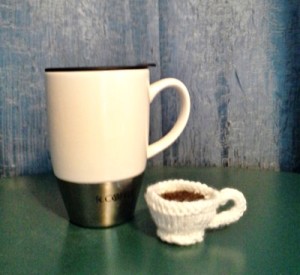 After a hat, some eyes, and some TLC, he finally came together. And here he is, Gallelego Pete, the first Pacific Northwest Tree Octopus in captivity: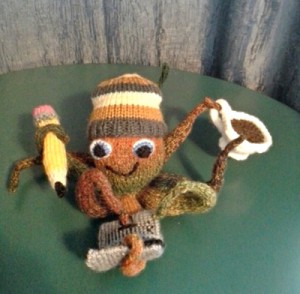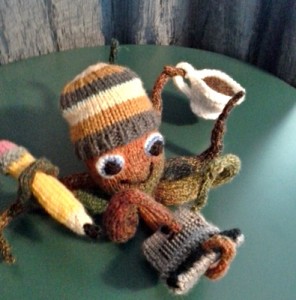 He has fully poseable tentacles and all of his accessories can be removed. He lived on my cabin mantel at the retreat, waiting for someone to pick him as their prize.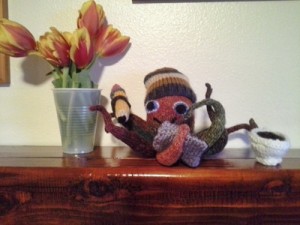 I am SO pleased to say he was snatched up by fellow writer Maggie Croft, who also wrote more words than any of the rest of us during our session. I have been assured he will be in good company with other writerly-crafted creatures that currently abide in her home. Happily ever after.