Excerpt
Death and Relaxation
Book 1 – Ordinary Magic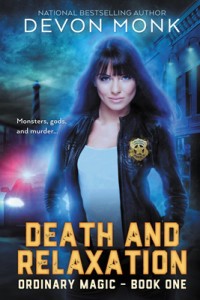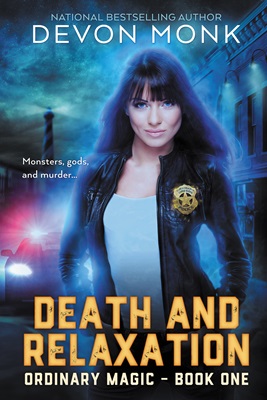 The station was still in shadow, a one-story building on the south side of Easy River, tucked back off the main road and surrounded on two sides by an empty lot that had gone to forest.
Three cars were in the parking lot, one of them Jean's truck, but Myra's cruiser wasn't among them. I wondered if she was getting photos of the crime scene, or more likely, still trying to get Dan Perkin to cool down.
I strolled through the front door and dropped the two boxes of pastries on Jean's desk, right between her Snape bobblehead doll and Dr. Orpheus figurine.
"Donuts," I announced. "Stop telling everyone in town I don't feed you."
Jean was the youngest of the Reed girls, and arguably the most cheerful.
While my hair was brown, and Myra kept her hair black, Jean's hair was whatever color she wanted that morning. Current preference? Purple and blue with a streak of red in the front, all of it braided down behind both ears. She'd somehow inherited our grandmother's blonde hair naturally—which, according to her, made it perfect for dying—and her blue eyes were deep and dark, like Mom's.
"Holy crap! You finally brought me donuts!"
"Among other things."
Jean stood and opened the box lids, grinning. "Aw…you remembered the maple cayenne sea-salt bars. You're my hero."
"Oh?" I stopped by the table with the coffee pot and poured a cup of overcooked coffee. "I heard Hogan was your hero."
I watched her out of the corner of my eye.
She was stuffing the maple cayenne abomination in her mouth and paused, her thin body still as she stared at me.
The only thing that could freeze my sister like that was the truth.
Wow. So she did like him.
I turned, stirring the sugar cubes with a plastic spoon.
Jean was all grin around a mouthful of pastry. She swallowed and dropped back into her chair, waving her hand in front of her lips. Those bars were spicy. "Do not know what you're talking about. He has a great ass though, and the arms on him? Big, thick. Rock solid. Sexy. Gives a girl unclean thoughts."
"Ryder said you drooled when baker boy sauntered by you."
"Damn right I did. Have you seen that man?"
"Once or twice."
"Then you know I'm not the only girl in town who drools over him." She shoved the rest of the pastry in her mouth and chewed, watching me. "So, Ryder, huh? I thought you were avoiding him."
I stifled a groan. Why had I even brought him into the conversation? "Not avoiding. Just giving him space."
"He's been in town a year, Delaney. That's plenty of space."
I walked over to my desk, around the corner in a recess where I was out of direct line of sight but could still see the front door and most of the rest of the small office.
Unlike Jean's desk, mine was clean and spare, with a computer, a document filer, and two phones taking up the surface. One phone was part of the switchboard and emergency call system. The other—old-style black brick of a thing with a rotary dial—was a direct line from a special room at the casino.
"And now we're going to forget I mentioned him," I said.
"Why would we do that?" Jean followed me to my desk. "Anything you're avoiding that hard is like catnip to me. You know that."
I did know that. I leaned forward, rubbed one hand over my eyes.
"What did Ryder have to do with Dan's rhubarb? Please tell me Ryder was naked during at least part of your thorough examination."
I held very still and took a deep breath. I was glad most of my face was covered by my hand, otherwise she'd see my expression and know that, yes, Ryder had been naked.
"Ryder was one of Chris Lagon's alibis. That's all."
"That is so not all."
"It really is. All. Any luck finding a new hire?"
She made a rude noise. "Changing the subject won't work."
"If that won't, then maybe you should."
"Should what?"
"Work."
"I am working. Getting details on this alibi situation. What did Ryder say?"
"He saw Chris and Dan talking. Was there late enough to see Chris close the place."
"All right. He's an alibi. He didn't…say anything about anything?"
I dropped my hand and studied her. "What are you getting at?"
"He told you I was staring at Hogan. How did that come up in the alibi conversation?"
"It was mentioned in passing."
"Ask him out."
I paused with my coffee cup halfway to my mouth. Ryder had said he'd run into Jean at the store. I was beginning to wonder if she'd orchestrated that chance meeting. She'd wanted Ryder and I to date since middle school. Had some sort of fairy tale idea of a happily ever after between us. Plus, my little sister was sneaky. "How long have you been talking to Ryder behind my back?"
She ignored me. "If he's not going to ask you, ask him. He likes you."
"I know he likes me. I like him too. We're friends. Friendly."
"Be more than friends," she said. "Take a chance. I know he's been gone awhile, but he's great. It will be great."
"How about you stay out of my personal business?"
"Oh, like that will ever happen." She leaned on the edge of my desk and polished off the rest of her donut. "You know he's not dating," she said around a mouthful.
"Not talking about this." I put down my coffee and logged in to the computer.
She snagged my cup, took a gulp. "Ow. Hot." She pressed her lips together and her eyes watered.
I just shook my head. Officer of the law couldn't figure out that hot coffee wasn't a good idea with spicy food. Brilliant.
"He's not dating," she continued, "ever since he's gotten back. He's had a few ex-girlfriends try. Remember Char?"
Char had been a gymnast in high school. Tiny, bendy. Popular and rich. She'd just missed out on qualifying for the Olympic team. She and I hadn't ever been in the same circles. I was more of a softball, swim team, and volleyball girl.
She was more the kind of girl all the boys wanted to date. Including Ryder.
Jean kept talking as if I'd answered her. "Well, she tried to get back with him. He wouldn't even give her the time of day. And you haven't dated since Mr. Find-Myself—what an ass—bailed town."
"So?"
"So why not go out with Ryder?"
"Because I'm the one deciding what to do with my life, not my little sister. And that…" I pulled my coffee out of her hand before she finished it. She was such a glutton for punishment. "…is the end of the conversation."
Jean opened her mouth.
Just as the old black phone rang.
We both stared at it.
She shook her head. "I'm clocking out in fifteen minutes. This is all you."
I sighed. "Where's Myra?"
"Responding to a call. Someone stole Mrs. Yates' penguin and tied it up a tree."
Mrs. Yates' penguin was a concrete yard ornament that someone in town couldn't get enough pleasure harassing.
The black phone kept ringing like a windup alarm clock. That phone only rang for one reason. There was a god on the line.
I squared my shoulders and picked up the heavy receiver. "This is Police Chief Delaney Reed of Ordinary speaking."
"Reed Daughter," the cool voice said from the other side. It was always a little disconcerting talking to a deity under full power. But I had had plenty of practice with it growing up. The Reed family were basically immune to such things.
Yet another reason why we made such good lawmen in this town.
"Yes," I said. "May I ask to whom I am speaking?"
"I am the god Thanatos. And I wish to recreate in your small mortal town."
Thanatos. God of death. I couldn't remember Thanatos ever vacationing in Ordinary, Oregon. It wasn't like every god in the universe had spent time here. Plenty of deities had given Ordinary a try and decided they didn't like living a powerless mortal life—not even for a short vacation. Other gods just never seemed drawn to the place.
I had a good memory. I could recite all of the deities who had ever stopped by for as long as a Reed had been in town—and a Reed had always been in town, if not this one, then in some other town in the world.
Why would Thanatos suddenly decide he wanted to feel the sand between his bony toes?
"Hello, Thanatos." I caught Jean's eye and made a hurry-up motion when she just stood there in surprise at the mention of his name.
Jean jogged off to the locked and hidden record vault behind the false wall where we kept the family files.
I went on in a pleasant but firm tone. "There is some paperwork you must fill out and sign with a binding oath before you can stay in the town."
"I understand the procedure, Reed Daughter."
"Good. I'll swing by tomorrow and bring you the paperwork."
"I would prefer that you meet with me today. It is the terms of service upon which your family agreed."
Crap.
It was in the original oath. The Reeds were bound to answer the call of the deities as quickly as we could.
The casino, where I made a once-a-week mail run for the deities and met with out-of-town gods to go over terms before they entered Ordinary as mortal, was a half-hour drive northeast from here. I'd lose an hour on the round trip, more for the inevitable conversation with Death, and I hadn't even filed my report on the explosion yet.
Myra walked through the door, just in time, as she always was. She raised one dark, sculpted eyebrow in question.
"Yes, of course, Thanatos," I said, watching Myra's surprised blink. "I can be there in just under an hour, if that works for you."
"It will suit me, Reed Daughter. Do not be late," he intoned. Then Death hung up on me, the phone clicking once before it went silent and dead.
"Death?" Myra asked.
"Death." I dropped the receiver in the cradle and scowled at the phone. "He wants a vacation."
"Doesn't everyone?" Myra said. "New here, right?"
"As far as I know."
"Okay, got it," Jean said as she came around the corner. "Hi, Myra."
Myra nodded.
Jean was carrying the large leather-bound book with fine vellum pages over both her palms. She had it opened to about a quarter of the way through.
"Anything in there on him?" I asked.
"Never taken a vacation. Hasn't been forbidden. No warnings. No notes. Nothing. He has a clean record."
"So there's nothing stopping him from being here," I said.
"Nothing in the book," she agreed.
"Myra?" I said. "I'll need to go. Haven't had a chance to file my report."
"It can wait. I'll hold down the fort."
"We so need another officer," I muttered.
"Or a strapping volunteer," Jean said.
"Anything new on the rhubarb attack?" I asked.
"Got the pictures." Myra shrugged out of her jacket and placed it on the back of the chair behind her desk, which was across from Jean's. "I'll look through them while you're gone."
I glanced at the clock. It was almost seven. Roy should be in soon to help out with emergency dispatch.
"Did you have any luck with Dan's neighbors?" I asked.
"Nothing about the blast. No one saw or heard anyone come or go, and Tibs was out walking his cat. Said the only one he saw out there was Dan. Thought I'd do a rundown of where the explosive might have come from."
"Dynamite?" I asked.
"Thinking it might be."
"Check in with the quarry?"
"Planning on it."
"Good." I snagged a buttermilk donut on my way to the door. "I'll check in when I get a chance."
Myra was already on the computer and waved one hand in acknowledgment. Jean walked with me out of the station.
"The contract." She handed me a yellow envelope.
"Thanks. Get some sleep. No staying up all day gaming."
"I am not twelve."
"You weren't into MMORPGs when you were twelve."
"Worse, I was into boys."
"Yeah, but now you're into massively multi-player online role playing games and boys."
She rolled her eyes. "Fine. I won't stay up all day. Laney?"
"Yes?" I opened the Jeep and tossed my coat and the envelope inside.
She didn't say anything, so I looked over at her. Jean had that look on her face. The one she'd worn when Mom had died. The one she'd worn when Dad had died. The one that I always wanted to hug away.
"Remember that bad feeling I mentioned this morning?" Her gaze searched my face for understanding. "It's gotten worse."