Ordinary Magic
Click on a cover to read the back of the book and excerpt
Death and Relaxation — Book #1 — June 20, 2016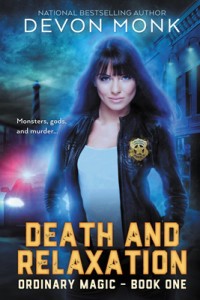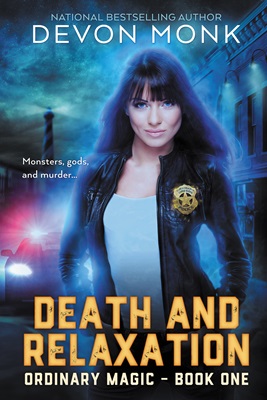 Monsters, gods, and mayhem…
Police Chief Delaney Reed can handle the valkyries, werewolves, gill-men and other paranormal creatures who call the small beach town of Ordinary, Oregon their home. It's the vacationing gods who keep her up at night.
With the famous Rhubarb Festival right around the corner, small-town tensions, tempers, and godly tantrums are at an all-time high. The last thing Delaney needs is her ex-boyfriend reappearing just when she's finally caught the attention of Ryder Bailey, the one man she should never love.
No, scratch that. The actual last thing she needs is a dead body washing ashore, especially since the dead body is a god.
Catching a murderer, wrestling a god power, and re-scheduling the apocalypse? Just another day on the job in Ordinary. Falling in love with her childhood friend while trying to keep the secrets of her town secret? That's gonna take some work.
Devils and Details — Book #2 — August 31, 2016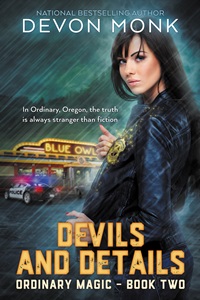 Caught between the devil and the deep blue sea…
Police Chief Delaney Reed is good at keeping secrets for the beach town of Ordinary Oregon–just ask the vacationing gods or supernatural creatures who live there.
But with the first annual Cake and Skate fundraiser coming up, the only secret Delaney really wants to know is how to stop the unseasonable rain storms. When all the god powers are stolen, a vampire is murdered, and her childhood crush turns out to be keeping deadly secrets of his own, rainy days are the least of her worries.
Hunting a murderer, outsmarting a know-it-all god, and uncovering an ancient vampire's terrifying past isn't how she planned to spend her summer. But then again, neither is falling back in love with the one man she should never trust.
Gods and Ends — Book #3 — May 22, 2017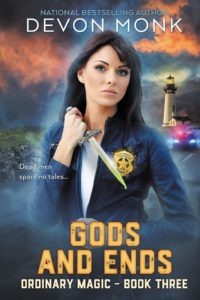 Keep your gods close and your monsters closer…
Police Chief Delaney Reed thinks she knows all of Ordinary, Oregon's secrets. Gods on vacation, lovelorn ghosts, friendly neighborhood monsters? Check.
But some secrets run deeper than even she knows. To take down an ancient vampire hell-bent on revenge, she will have to make the hardest decision of her life: give up the book of dark magic that can destroy them all, or surrender her mortal soul.
As she weighs her options, Delaney discovers she can no longer tell the difference between allies keeping secrets and enemies telling the truth. Questioning loyalties and running out of time, Delaney must choose sides before a kidnapping turns into murder, before rival crochet and knit gangs start a war, and before the full moon rises to signal the beginning of Ordinary's end.

Rock Candy — Short Story #1 — October 2, 2017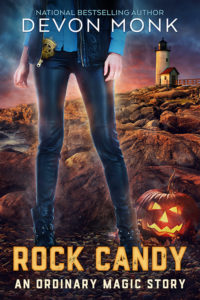 Just An Ordinary Halloween…
Police officer Jean Reed doesn't normally mind pulling the graveyard shift in Ordinary Oregon, the sleepy little beach town where gods vacation and monsters reside. But October in Ordinary is anything but normal. One mob of cursed gnomes, one haunted harbor festival, and one chilling visit from Death makes this October stranger than most.
But it's Jean's boyfriend, Hogan, who really has her flustered. With their six month anniversary ticking down to Halloween, she wonders if their time together is anything more than a casual fling. When she discovers Hogan has been keeping secrets, Jean must decide if their relationship has been nothing but a trick or if it's been the one treat she's always wished for.
Paper Stars — Short Story #2 — December 4, 2017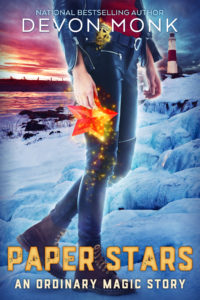 One magical holiday. Some assembly required…
Police Chief Delaney Reed loves the holidays in Ordinary, Oregon, the beach town where gods vacation and monsters reside. But this year, she has a lot on her plate. It isn't just the creature who follows her home, or the terrible storm barreling toward town. It isn't that Mrs. Yates's penguin has been stolen. Again.
It's that her boyfriend, Ryder Bailey, has been gone for two months and is growing more distant. She's beginning to think she knows why.
But when a demon, a dragon, and a god bearing unusual gifts get thrown on top of her to-do list, Delaney decides to roll up her sleeves and make this holiday unforgettable. One disaster at a time.