By
Devon
on July 16, 2014
I have added a FOLLOW button over there on the right column of my blog.  If you would like to get my blog posts automatically sent to your email (Yay! Convenience!)  just put your email address in that little box and click follow. HOUSE IMMORTAL, book #1 in my new series will be out on […]
GIVEAWAY IS OVER. Those speedy fingers were extra speedy today. This is the speed giveaway! Comment, quick! The first three people who comment on this post will received an advanced reader copy of HOUSE IMMORTAL. Good luck!
By
Devon
on June 24, 2014
A big thank you to readers for entering the giveaway for early copies of the first book in my new trilogy: HOUSE IMMORTAL. I fired up the random number generator, and the winners are: Tanya R. Monroe  who said: LOVED the Allie Beckstrom and Breakers books. Can't wait to get my hands on this new […]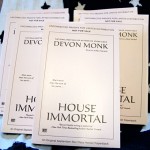 By
Devon
on June 17, 2014
Winners have been announced click here to see. I have six (6!) shiny advance reader copies of HOUSE IMMORTAL, book #1 in my new trilogy, that I am giving away! Things you should know: This is what the ARCs look like: No pretty cover and plenty of pre-proof typos inside for your reading amusement. Here's […]
By
Devon
on June 10, 2014
I am blogging over on the Deadline Dames today, and this post is also available there. Brace yourself, people. I'm going to talk plotting. *waits for room to empty* Okay, now that it's just the two of us here, I'm going to tell you how I plot a novel. Well, I'm going to tell you […]
Giveaway is over.  The books are claimed!  Thanks for playing, everyone! Happy reading!! The first two (2) people to comment, win a signed mass market copy of TIN SWIFT. Good luck, speedy fingers!
*NOTE* There are now 2 (two) unclaimed copies of TIN SWIFT that I will be giving away here on my blog in a first-comments, first-wins speed giveaway around 3:00 PST.  I will post a NEW BLOG ENTRY titled: SPEED GIVEAWAY and the first two people to comment on *that* post will win the books. Big […]