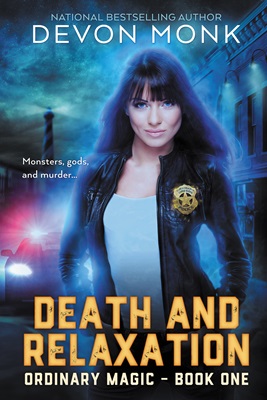 DEATH AND RELAXATION is out today!
I am so excited to finally be able to share with you the first book in my newest series!
This is the story about a regular small town cop, Delaney Reed, and her not-so-regular small town of Ordinary, Oregon where gods vacation, monsters reside, and even murder can't put a damper on the world-famous Rhubarb Rally.
This is small-town urban fantasy and is a little lighter than some of my other books. But of course it comes with a healthy dollop of humor, mystery, and a dash of romance.
Here's the back cover:
 Monsters, gods, and mayhem…
Police Chief Delaney Reed can handle the Valkyries, werewolves, gill-men and other paranormal creatures who call the small beach town of Ordinary, Oregon their home. It's the vacationing gods who keep her up at night. 
With the famous rhubarb festival right around the corner, small-town tensions, tempers, and godly tantrums are at an all-time high. The last thing Delaney needs is her ex-boyfriend reappearing just when she's finally caught the attention of Ryder Bailey, the one man she should never love.
No, scratch that. The actual last thing she needs is a dead body washing ashore, especially since the dead body is a god.
Catching a murderer, wrestling a god power, and re-scheduling the apocalypse? Just another day on the job in Ordinary. Falling in love with her childhood friend while trying to keep the secrets of her town secret?
That's gonna take some work.
Amazon | Barnes & Noble | iTunes
Happy reading!!!
Oh, and please share the news, or leave a review if you feel so inclined. Thank you! 🙂