BACK LASH comes out in ebook on November 12th. Here's a sneak peek…
"All of the people you've killed for the last year," Terric said, with a little less anger.
Dash still hadn't sat down to breakfast. He stood at the toaster as if fascinated by the browning of bread between coils.
I flicked a look at the blank paper and the pen. There was no way in hell I was going to tell him how many people I'd killed in the last year.
Yes, I killed people. Horrible, right? Monstrous? I don't disagree.
But the Death magic burning in me demanded to be fed. If I didn't choose what death to shovel into that fire, Death magic took what it wanted. Devoured and destroyed with random, brutal, efficiency.
Innocent people died if I didn't give death its due. So I made sure to only take out the people who had committed magical crimes so terrible they'd gotten their memories wiped by the Authority.
Killing by magic was a bit more difficult now. For one thing, the criminals had all regained their wiped memories when the Authority went public. Having found out they had been removed from their lives, sometimes given new personalities, new jobs, new memories didn't make a single one of them happy. But the criminals had already been tried, judged, and sentenced. Taking their memories was a mercy killing back when the Authority was in full swing.
I was just taking care of old business.
"Nope," I said. "Not going to happen."
Terric waited, measuring me. That Soul Complement bond worked both ways. If he was paying attention, he knew just how much nope I was about to throw at this.
He took a breath, sat back and lifted the fingers of one hand. "Just the last three months. It's important."
I slurped coffee, watched him jerk when the toaster popped. Watched him not look over while Dash scraped butter across toast and spread marmalade.
This was amusing, but also ridiculous.
"You going to eat on your feet today?" I asked Dash.
He carried a plate over to the table and sat in the only other chair, between us.
"It's none of your business what's bothering us, Shame," he said, getting right to the point of what I was not talking about, and they were not ignoring.
He poured milk into Terric's bowl while giving Terric a pointed look. "We'll figure it out."
Dash wasn't a part of our Soul Complement bond, but he was a smart man. He knew Terric and I had been not talking about them.
"What we don't have figured out," he continued, "is why you're knocking off people and leaving them out in the open with magic burned into them. How is that in any way smart?"
"It isn't," Terric said. "It's sloppy and stupid. You might be one of those things, but you are never both. What in the hell is wrong with you?"
"I'm not the one leaving dead bodies in alleyways."
Terric exhaled a short breath and shook his head. "Don't play this game."
"Game? No," I said. "Uh-uh. You are not going to do the dirty and blame it on me. I didn't leave anyone dead in an alley, obviously killed by magic."
"Bullshit."
"The man doth protest too loudly," I said.
"I'm not stupid enough to leave a body out in the open."
"And I am?"
"I'm not the one who has a goddamn hit list in my pocket."
I took a drink of coffee, mostly to bother Terric and to give myself a moment to consider what he'd said. The coffee went ice cold in my hands, Death magic inside me sucking out the heat of it. He was right to suspect me. I did have a hit list.
So Terric didn't do it. Or wanted me to think he didn't. Why?
"Half-naked man isn't exactly my style," I observed calmly, watching his reaction.
"Who said anything about half-naked?"
"The man in the alley I found yesterday was stripped to his slacks. Half naked."
Terric lifted his head, his eyes searching my face. He knew I wasn't lying. He should sense that through our connection too.
"You found?" he said. "Yesterday?"
I nodded. I was watching Terric, but also keeping tabs on Dash out of the corner of my eye.
Terric and I were the only people in Portland who could use magic. As far as we knew, we were the only people in the world who could use magic at all. We'd been pretty clear about that loophole we'd slipped into the new rules of magic when we'd locked magic away.
Only he and I got to play with the cool toys.
Dash was the one person who knew we could access magic. He looked slightly shocked and more than a little sick.
"In an alley off of Burnside," I went on. "I didn't kill the guy. I did clean up the magic marks. Burned them off so when the cops found him they'd find a bloody, but not magic mess. Are you sure you want to tell me you didn't do it, Ter?"
"I don't kill people," he said. Through our bond, I heard what he didn't say: like that.
"Well, neither do I," I said. "Like that. Which means we have a problem, boys."
"No one can access magic," Dash said.
"Someone did," I said.
"Maybe it just looks like a magic kill?" he suggested. He glanced over at Terric, who was staring at me, and then he looked back at me, staring at Terric.
"It was a magic kill," Terric said.
"I wasn't a part of it," I repeated. "Did you touch the corpse, Ter? Did you get a read for what kind of magic was used? Did you sense me in it at all?"
"I touched him."
"And?"
"Healed him."
I drank coffee while I let that set in. "You healed a dead guy." It wasn't a question, but some things just needed to be said out loud.
"Life magic," he noted.
I nodded. I hadn't ever thought through his need to pour life into the world as far as healing the dead. Raising the dead? Maybe. Mending dead flesh? Creepy.
"Cause of death?" I asked.
"Cops will think it's a heart attack. The guy on Burnside?"
"Mugging with an acid burn chaser."
"Did you recognize the signature?"
I dug in my pocket for my phone. "I didn't look at it that closely since I thought it had to be you. Took a picture though."
"Shit," Terric said. "I should have thought of that."
"I did." Dash pulled his phone out of his pocket.
"You took a picture of me healing the corpse?" Terric looked over at him for the first time today. Dash was flipping through photos, so didn't notice.
"Just the glyphs. Something seemed…off about them. Too neat. Too…practiced for Shame."
"Hey, I'm practiced."
"No, you're experienced. There was something so…Sunday school about these glyphs."
"Surrender and Pain do fit the Sunday school motif."
The corner of Dash's mouth twitched up. "No, I mean they looked like they were cast by someone who had never practiced magic before."
Terric made a hm sound and leaned forward. Dash turned the screen so he could study the picture.
"He's right," Terric said. "I don't know why I didn't notice it before."
"You were too busy outlining how you were going to kick Shame's ass."
"Aw. Nice to know you care, Ter," I said.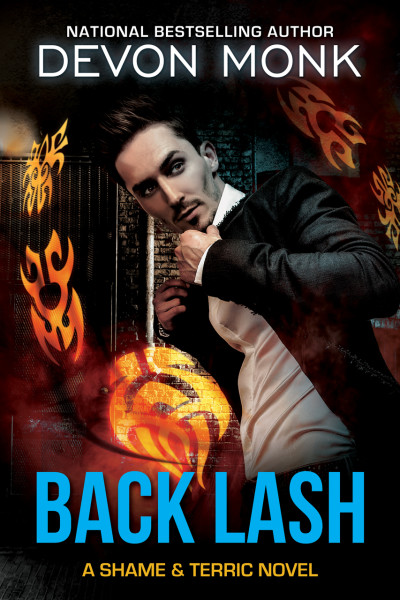 Available November 12, 2015 🙂