Yes! I will be attending Worldcon in Spokane this year. I'll be traveling via train, which unfortunately means I'll miss all of Wednesday. But on the upside, I'll be there until midnight on Sunday. 😉
Here is my schedule:
When to Get An Agent
Thursday 12:00 – 12:45, Bays 111B (CC)
Autographing – Aliette de Bodard, P. C. Hodgell, Richard Kadrey, Devon Monk, Michelle Sagara, Lawrence M. Schoen
Friday 13:00 – 13:45, Hall B (CC)
Writers Workshop section 07
Saturday 10:00 – 13:00, 201A (CC
It's been years since I've attended Worldcon and I expect this one to be a whopper. My plans are to take it easy, get some writing done, and to do my best to mingle and have drama-free fun. If you see the slightly introverted gal in the corner with a cup of coffee, it's probably me. I hope you'll come on over and say hi. 🙂
NEWSLETTER
Changes are afoot! I'll be doing a fair bit more with my newsletter in the next several months, including using it as the first place to share exciting news, exclusive excerpts, and of course, prizes!
If you want to be the first to know all the up-to-date stuff with my books, my writing, signings,  (okay, and probably a little of my knitting) be sure to sign up here.
The next newsletter will go out at the end of the month. I hope you'll give it a try.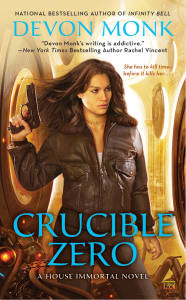 CRUCIBLE ZERO – In stores September 1st
Book #3 –the final installment–in the House Immortal trilogy. It's been getting some great reviews lately!