News #1:
The other day I mentioned that HOUSE IMMORTAL, book #1 of the House Immortal series is on a super-sweet ebook sale of only $1.99.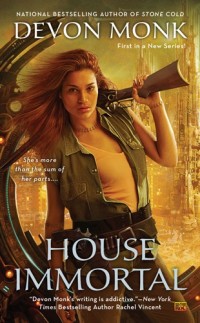 That sale lasts until February 15th–only  a few days left now!
One of the great things about this sale is it was featured on this cool site called BookBub, which I had never checked out before. Here's what it's all about:
BookBub is a free daily email that notifies you about deep discounts on acclaimed ebooks. You choose the types you'd like to get notified about — with categories ranging from mysteries to cookbooks — and we send great deals in those genres to your inbox.
I signed up for BookBub (it's free!) just last month and I have really enjoyed getting those daily emails. I've discovered some new authors and also favorite authors at great prices. As a reader, I think it's a really neat service.
News #2:
In other news, INFINITY BELL, Book #2 of the House Immortal se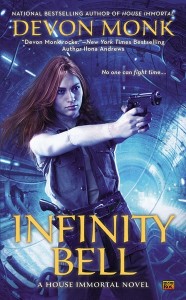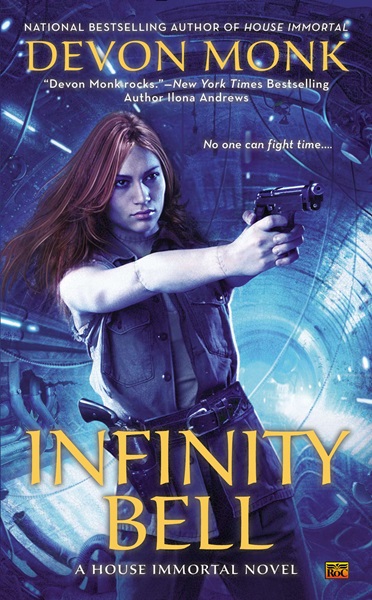 ries is going to be out in just a couple weeks! (March 3rd) I'm so excited for readers to finally get their hands on the newest installment of Matilda Case's adventures.
I'm also excited that Publisher's Weekly gave INFINITY BELL such a terrific review. Here's what they had to say:
Grit and adrenaline drive the action-filled, romance-tinged second novel in Monk's House Immortal SF/fantasy series (after House Immortal). Matilda Case is one of the 13 immortals called the galvanized. She and her brother, Quentin, are working on ensuring that Abraham Seventh, a fellow galvanized, regains his health—even as they're all on the run from the various Houses, thanks to complex and dastardly political machinations with long-reaching effects. While attempting to remain free, Matilda and her family (both by blood and by choice) must race against time to prevent genocide on a global scale. Continuous action makes for a roller-coaster effect, as the myriad twists and turns of politics and time-travel slam together. Each sentence is crafted for maximum impact, with exquisite storytelling and relatable, emotional characters. There are more than enough loose ends to ensure continued readership for future installments.
Whew! That's a heck of a nice review! I sure hope readers enjoy the book when they get their hands on it.
News #3:
I'm going to do a cover reveal tomorrow, and I hope you'll stop by to check it out.
Until then, happy reading!