Thank you all for entering! Winners have been announced on this post (click here).
My goodness it's been a busy month or two! Sorry to have gone so quiet lately.
Over the next week or so, I'll try to do a few updates about projects I'm working on, but today I want to get right to the fun stuff. I have in my hands four ARCs of INFINITY BELL, and I want to put them in your hands!
INFINITY BELL is book #2 of the House Immortal series. Book #1 HOUSE IMMORTAL came out in September, and INFINITY BELL will be out in March.  Here's what the back cover says about it:
Return to national bestselling author Devon Monk's heartpounding House Immortal series, where eleven powerful Houses control the world and all its resources. But now, the treaty between them has been broken, and no one—not even the immortal galvanized—is safe….
Matilda Case isn't normal. Normal people aren't stitched together, inhumanly strong, and ageless, as she and the other galvanized are. Normal people's bodies don't hold the secret to immortality—something the powerful Houses will kill to possess. And normal people don't know that they're going to die in a few days.
Matilda's fight to protect the people she loves triggered a chaotic war between the Houses and shattered the world's peace. On the run, she must find a way to stop the repeat of the ancient time experiment that gifted her and the other galvanized with immortality. Because this time, it will destroy her and everything she holds dear.
Caught in a cat-and-mouse game of lies, betrayal, and unseen foes, Matilda must fight to save the world from utter destruction. But time itself is her enemy, and every second brings her one step closer to disaster….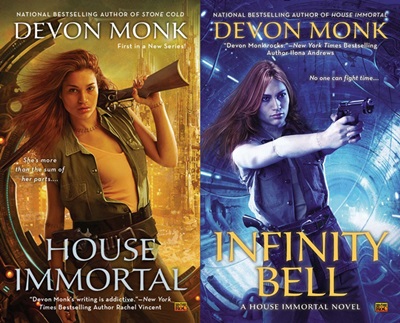 Since these are advanced reader copies of INFINITY BELL, they don't have the pretty cover, and they undoubtedly have some typos and spelling errors.  🙂 Here's what the ARC looks like: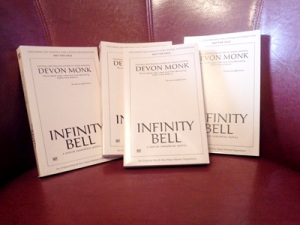 If you'd like a chance to see what happens to Tilly, Abraham, Neds and the rest of the crew before the book is even on the shelves, just leave a comment on my blog here.
I will draw four winners on January the 5th. If I don't hear back from the winners within one week (by January 12th) I'll do a speed giveaway of first-to-comment wins.
I will mail internationally.
Good luck, and happy reading!