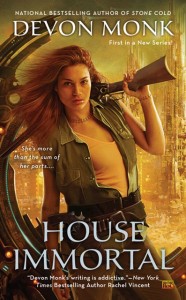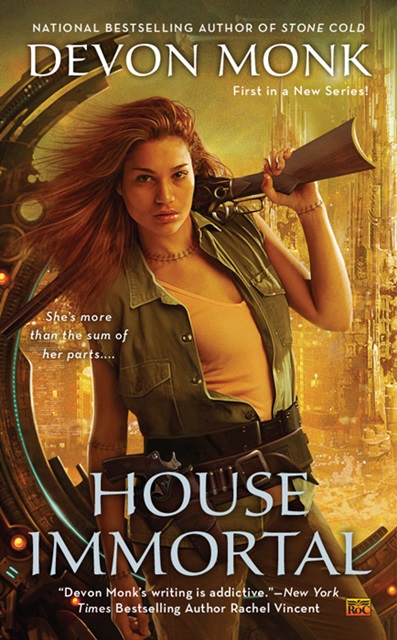 The first book in my new fantasy series, HOUSE IMMORTAL is out today! *yay!* *throws confetti!*
HOUSE IMMORTAL is getting some great reviews. Thank you, readers and reviewers–you rock so much!
Check out what these excellent people have to say about it:
Book Briefs + Giveaway of House Immortal
Kindle Obsessed + Giveaway of House Immortal
RT Book Reviews 4.5 stars, Top Pick!
Since it's release day, I thought it would be fun to do a giveaway via my newsletter to celebrate. If you aren't signed up for my newsletter, it's really easy. Just scroll over to the sidebar on my webpage and hit the "subscribe" button under "Subscribe To Newsletter".
My newsletters go out quarterly. I never share email addresses with any person or company so you won't be spammed, I promise.  I always add a little extra somethin'-somethin' in the newsletters that won't be found anywhere else, so I do think you'll get something out of them even if you follow me on other social media sites. 🙂
All right then…the giveaway:
I am giving away three (3) signed copies of HOUSE IMMORTAL to three newsletter subscribers. On Friday, September 5th, I will fire up the random number generator and choose three winners. I will contact those winners via email, and I will mail internationally!
But wait…there's more! I'm also giving away these one-of-a-kind, fingerless gloves originally designed and knit by me. I call them: Matilda Gloves
Matilda Case is the main character in HOUSE IMMORTAL and I thought she might have a nice pair of fingerless gloves to wear on chilly mornings. Of course they'd be in House Brown colors and have a nice "stitched" or "Frankenstein" feel to them. (I also think they'd make nice a steampunk accessory.)
100% wool, and very, very soft (not itchy at all). Accented with pewter cube starburst beads.
On September 5th, I will also pull a random winner from my newsletter subscriber list and will contact them via email. I will mail internationally.
Thank you all for reading and following and reviewing and commenting and just being the amazing, awesome people you are. I hope you enjoy House Immortal if you decide to give it a try.