I have added a FOLLOW button over there on the right column of my blog.  If you would like to get my blog posts automatically sent to your email (Yay! Convenience!)  just put your email address in that little box and click follow.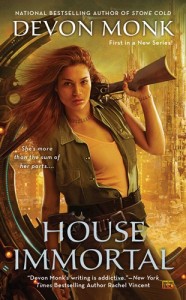 HOUSE IMMORTAL, book #1 in my new series will be out on September 2nd! That's only seven weeks away, people. Wow! Where has the summer gone?
RT BOOK REVIEWS magazine gave HOUSE IMMORTAL 4.5 stars, and made it a Top Pick!!  I won't quote the whole thing here, but this is the first line of the review:
Incredible worldbuilding, exciting characters and a plot that will keep you up all night mark the beginning of this wonderful new series. 
If you'd like to read an excerpt of HOUSE IMMORTAL, click right here.
I am thrilled to announce that HOUSE IMMORTAL will also be out in audio via Tantor Audio, narrated by the brilliant Leslie Carroll. Publication date should also be in September. More news as I have it!
As for my current projects, well, I just turned in the editorial revisions for INFINITY BELL, book #2 in the HOUSE IMMORTAL series. And I have seen the amazing artwork for the cover! I can't share that yet, but as soon as I can, I'll post it here.
What's up next? This week is all about clearing up the outline for book #3 since I've changed a few things in book #2 during the editorial revisions. I'm supposed to hand Book #3 (as yet untitled) in to my editor in September. Which means I gotta whole lotta writing to do!
Onward!