A big thank you to readers for entering the giveaway for early copies of the first book in my new trilogy: HOUSE IMMORTAL.
I fired up the random number generator, and the winners are:
Tanya R. Monroe  who said: LOVED the Allie Beckstrom and Breakers books. Can't wait to get my hands on this new series!!!
Jen Schaper who said: This sounds like a great new series! I'd love to win a copy

courtney who said: I love reading all of your books
Julie who said: Cool! I love ARCS, but then I'm a very impatient person by nature.

Diane Joy Baker who said: Twould be lovely to win. Sure like the cover; nice rifle she holds!
Tracey boyd who said: Thank you for the opportunity to read your new series. I have been a reader of your books for years!
CONGRATULATIONS!!! 
Winners will have one week (until July 1st) to contact me via the little email button on my blog with their mailing address.
If winners don't contact me, I will do a speed giveaway first-comments-first-wins of the remaining books Wednesday July 2nd, probably in the afternoon.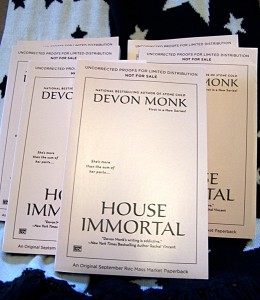 My next giveaway will be in my not-quite quarterly newsletter. If you haven't signed up for that yet, you can click on the SUBSCRIBE button top of the sidebar on my web page. The newsletter is full of news, free stories, exclusive sneak peeks, behind-the-scenes, goodies and giveaways.