Delicious Failure
Today is not Tuesday. It is Wednesday. I am blogging, which means I broke my blog-every-Tuesday streak.  Why did I break the streak? Well, instead of blogging, I baked pies for our watch party of the season finale of Supernatural.
Here are the pies: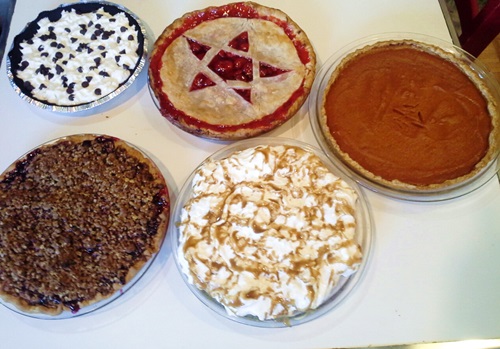 That's chocolate cream, cherry, pumpkin, blackberry/raspberry crumble and rum caramel banana cream.
Since I am a bit deadline foggy-brained, I was a little distracted when I was baking.
Did you know that chili powder sprinkled in a pumpkin pie instead of cinnamon adds a bit of zip to the pie, and can be totally drowned out by whipped cream? Not that I would, you know, accidentally pour chili powder in the pie instead of cinnamon. *cough-totallydid-cough*
We had a great time watching the season ender of the show despite the pies of doom. I've enjoyed Supernatural this year and am looking forward to what they'll do next year for their tenth (wow!) season.
Giveaway
TIN SWIFT (book #2 in the Age of Steam series) is being released June 3rd in the smaller (cheaper!) mass market paperback format. I am so excited!
To celebrate,  I'm giving away ten (10) signed copies!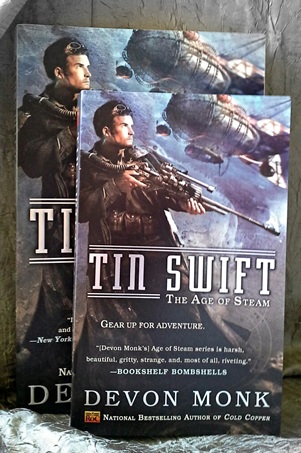 Just leave a comment here on the blog and I will choose ten winners on Tuesday, May 27th.
Winners will have one week (until June 3rd) to contact me via the little email button on my blog with their mailing address.
If winners don't contact me, I will do a speed giveaway first-comments-first-wins of the remaining books Tuesday June 3rd, probably in the late afternoon PST.
I will mail international.
So, how about you? Have you seen any good season enders this year?