Tuesday. Lots of good things about it:
1. It's not Monday
2. New books are released
3. Supernatural is on
4. It shares the first letter with my actual favorite day of the week
5. I will be blogging here, faithfully (fingers crossed)
That's right. I might blog more than once a week, but I'm going to try putting up a post every Tuesday, even during my very tight, very brain-dead deadline weeks (you have been warned).  I hope you'll check in and see how many Tuesdays in a row I can chain together.
This counts as one (1). 😉
Speaking of deadlines and favorite days of the week:  Thursday I turned in the manuscript of book #2 in the House Immortal series.  Book #1 is titled: HOUSE IMMORTAL and comes out this September. Here is the awesome cover: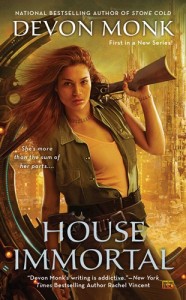 Nice, right?  And now for exciting news!
I can officially announce the title for Book #2.  Ready??
INFINITY BELL
So spiffy! I love it. INFINITY BELL will be out next March, and I'm very excited about it!
Behind-the-Scenes: Titles
Choosing titles for my novels has always been a collaborative effort between me, my editor, and publisher.  Generally, I have an idea for a title and sometimes an idea for an entire series of titles.  But I always pull together a list that I think would work, because there are things like marketing to consider.  Sometimes we use a title out of that list, sometimes my brilliant editor comes up with the title.
The first title of my first novel: MAGIC TO THE BONE was my editor's suggestion. That title not only fit the novel nicely, it also set up the "style" of titles for the rest of the series. I think my original working title was "Dead Down 13th" (too mystery) and my second suggestion was "A Lick of Magic" (too paranormal romance.)  My editor understood the "feel" of urban fantasy and I think her title is so much stronger than mine for telegraphing what kind of novel it is.
The titles of my steampunk novels were my suggestion, incorporating metal into the steampunk/fantasy/western style: DEAD IRON, TIN SWIFT, COLD COPPER.
I also suggested the titles for my urban fantasy spin offs: HELL BENT and STONE COLD.
For the first novel in the House Immortal series, titled: HOUSE IMMORTAL (see what we did there?) we went with a suggestion from my editor.  I had another title in mind and while mine worked on one level, hers gave the novel a scope and tone that more clearly represents what the story and entire series is about. I love this title.  Like I said, she's brilliant.
INFINITY BELL was my suggestion, and #2 on the list of titles I thought might work for this novel. My goal was to match the "feel" of the title my editor came up with for book #1, and to also encapsulate the scope and range that this novel adds to the series. I think it works really well, and my editor agrees.
So there you have it.  A little behind-the-scenes look at how my novels receive their titles.
If you have a question you'd like me to answer, or something you'd like to see me blog about, please leave a comment.  I've got a whole lot of  Tuesday blogging ahead of me. 🙂