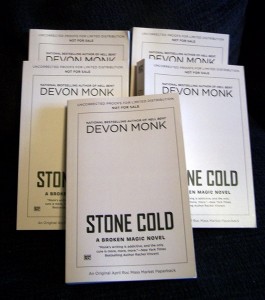 A few days ago I posted a giveaway for five (5) ARCs of STONE COLD.
Thank you for entering!  I have fired up ye olde random number generator, and the winners are:
Poppy who said: I would love a chance to win an ARC of Stone Cold. Hell Bent was amazingly awesome. Shame is the best!
Heidi Franklin who said: I can't wait to read it!!!
Amanda Brown who said: Awesome giveaway, I haven't started this series yet. I have the first 2 books on my desk and am doing my ritual of admiring them on the shelf for a little while. Can't wait to read them. Thanks for the giveaway!!
Bethany C. who said: I would love to win a copy, thanks!
Susan who said: I always look forward to you new books!
If winners do not contact me by Friday, February 28th, I will offer up the remaining ARCs in an exciting first-comments-first-wins speed giveaway on Saturday, March 1st.
🙂