Here's how 2013 shook out for me:
Writing
Books written: 3               — Hell Bent, Stone Cold, House Immortal
Short stories written: 2   — Life Between Dreams, The Lost The Found
Books revised: 2               — Hell Bent, Stone Cold
Books copy edited: 3       — Cold Copper, Hell Bent, Stone Cold
Books proofed: 5              —Dead Iron (mmpb release), Cold Copper, Hell Bent, Tin Swift (mmpb release), Stone Cold
Other books worked on: 2
I also tried my first self epublishing and released a Kindle edition of my short story, HANG FIRE, which takes place between Dead Iron and Tin Swift in the Age of Steam series. I hope to put it out in more formats soon.
Oh! And my short story collection, A Cup of Normal is now available in eformat!
Covers of the books I worked on this year. Because: pretty!
Short stories I worked on:
This wasn't exactly how I expected my year to unfold, and while I wish I would have fit a few other projects in that schedule, I know I was doing the best I could at the time.  Speaking of time, I took 33 days off last year.  If you work a normal 5 day a week job, you average about 104 days off in a year.
To put this another way, I got a day (or days) off in every month except January, August, September, October.
The fallout of having no days off for a three month run near the end of a busy year (Aug-Sept-Oct.) was tricky. By the time November was over (I only took 2 days off in November–Thanksgiving & the day after) I was pretty worn out, writing-wise. Luckily, December's work was a couple of sets of proofs, a revision letter to muddle over/brainstorm through, a short story to write, and a newsletter to design/launch.  I did all that and took 8 days off in December over the holidays.
Whew!
Newsletters and Knitting
I launched my first newsletter in December, and intend to make it a quarterly thing. Thank you everyone who signed up for it! If you'd like to sign up, you can click on the link there in the sidebar of my blog. The newsletter will have excerpts, free stories, knitting patterns, news and more.
As for this year's knitting, I think this was the year of the silly hats. I'll let these pictures tell the tale.
Cloud light pull (not a hat!)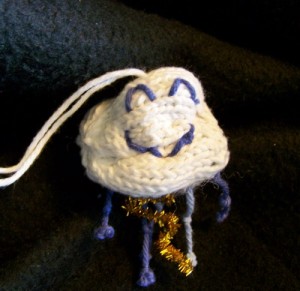 Knight hat for nephew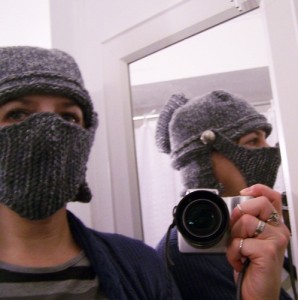 Plants vs. Zombies hat for me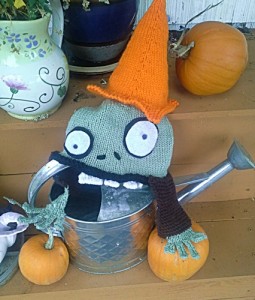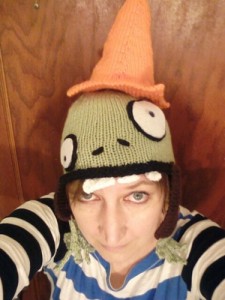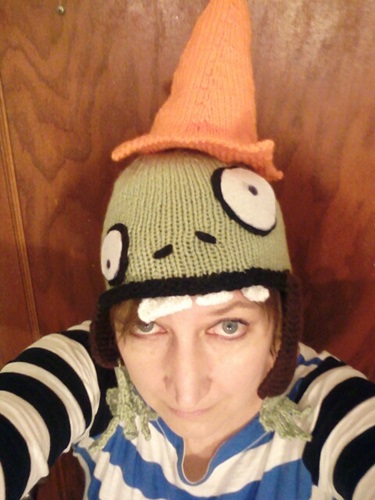 Patchwork wizard's hat for son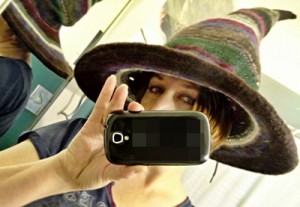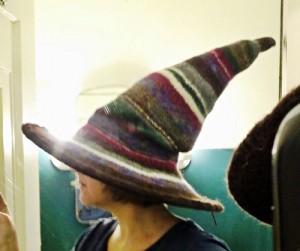 Viking hat for nephew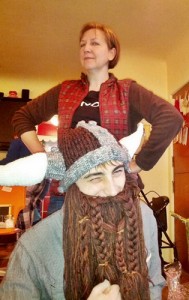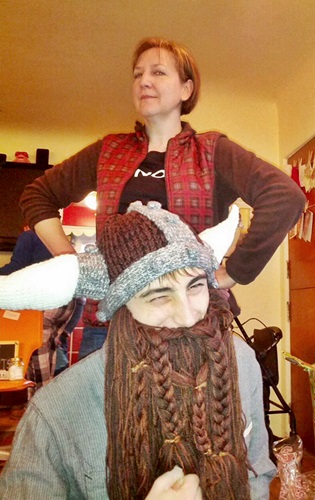 I also knit a pretty slouch hat for a gift, but didn't get a picture of that one before I sent it.
This is a pretty long post, so I think I'd better wrap it up.  Next post, I'll gaze into the future of 2014 and share news on that new book series I have coming out!