This:
In case you missed it on Twitter and Facebook, I just finished my first felting project!  I used stash wool, but some of the yarn wasn't 100% wool so not everything felted.  Oops!  However, I still kind of adore this patchwork Wizard's hat:
Specifics: I used Anne Carroll Glimour's "The Enchanting and Magical Witch Hat" pattern,  on size US 11 needles with worsted weight yarn. I knit the adult non-slouchy hat, but added an extra row after each decrease.
That:
I just turned in proofs for TIN SWIFT,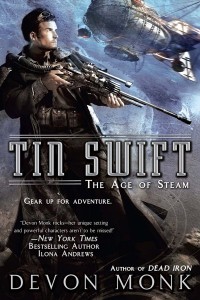 book #2 of the Age of Steam series.  What's that, you say? You thought TIN SWIFT came out a couple years ago? You are correct, it did!  However, my awesome publisher is releasing it in paperback format (smaller, cheaper!) and I had a chance to fix a couple typos. Yay!  You should see TIN SWIFT in paperback format this June, which means you will be able to get both DEAD IRON (book #1) and TIN SWIFT (book #2) in paperback.
Next up on my writing plate is to go through proofs for STONE COLD.  These are due back on the New Year, which means STONE COLD will be out in stores on April 1st 2014.
Proofs, by the way, are the last chance I get to see the book and to catch typos, extra spaces, and etc.. At this stage I'm not allowed to revise or rewrite anything. It's just a last pass where I (and a second proofreader) attempt to comb out those rascally extra periods and typos.
Other Things:
1. My newsletter will be going out this weekend!  This first newsletter has an exclusive excerpt from STONE COLD, a free Shame and Terric short story, a knitting thing, a new book announcement, and other fun stuff.  Subscription button is on the side bar of my web page.
2. I am hand making some gifts this holiday season. I'd love to show you what I'm working on, but can't share the projects until after I give them since I know a couple of my gift-receivers read this.  (I see you hiding over there behind that fake mustache).
3. I also hope to squeeze in some relaxing holiday reading before the new year but haven't decided what to read yet.  Decisions, decisions. Anyone else snuggling up with a good book?  What are you reading that you're loving on?