I always say I will shop, clean, decorate, bake, make, and otherwise indulge in holiday joy early every year.
Did I get everything done early this year?
Not even close.
My son, the smart guy that he is, went "first minute shopping" as he called it, and got gifts taken care of in the first week of December.  I, on the other hand, was strolling the shops on Christmas eve morning. (Side note: a shop keeper saw me staring longingly at a $700 Victrola and offered to wind it up and play it for me.  He and I stood there and enjoyed the music for several minutes. It was lovely. 🙂 )
But before I lead you to think I got nothing done, that isn't the case.  I handmade twenty-seven gifts this year, shopped, baked, decorated, cooked the big meal, and hosted breakfast for 47.  During this, I also turned in a set of proofs, brainstormed revisions on a novel due in about a month, sent out my first newsletter, and knitted that wizard's hat I posted the other day.
It has been a wonderful whirlwind of work and play, and I've enjoyed every second of it.
If you missed the newsletter, I will be posting the exclusive snippet from STONE COLD here on the blog in a couple days. Also, you can click here to read the free Shame and Terric short story (and don't forget to enter the contests for free stuff!) The other newsletter content will also be posted here on the blog over the next week or so.
If you signed up for the newsletter, thank you, and I hope you enjoyed it!
The gifts I handmade this year were wooden tea or trinket boxes that I covered in pretty paper and Modge Podged for the women folk: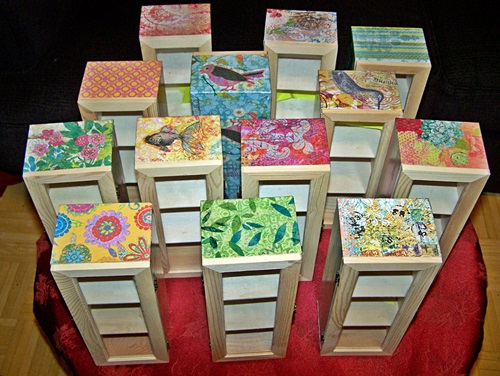 I also made wool dryer balls.  I forgot to get pictures of these, but I hand-wound over three miles of yarn into balls. Then I felted them all, which made them dense.  You put the felted balls of yarn in your clothes dryer to help separate laundry so it dries faster.  I made some for myself first to see if it worked, and it does!
The last thing I made was this knitted Viking hat for my nephew. I cast on Sunday and had it done by the wee hours of Wednesday morning.  As you can see from the picture, we both agree that  it's a mighty hat, perfect for a mighty warrior!