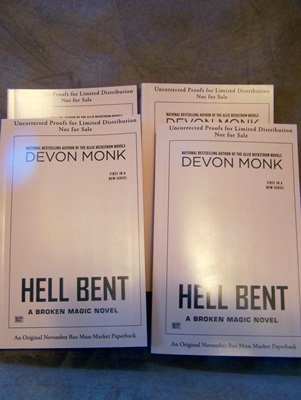 The random number generator has spoken!  Here are the winners of the advance copies of HELL BENT:
Jason B who said: I'm very excited about this new extension of Allie's world. I guess this now becomes Shame & Terric's world
Mahala who said: I've been waiting to see more of the world you created with Allie, something to brighten up September.
Diane who said: I love your work! I'm so happy about the soon-off!
Adowling who said: *digs through bribery bag What can I offer you for one of these? Cupcakes, cookies, pie, a kidney? Ok, maybe not a kidney, I'm not completely crazy here, just a bit
Shelby D who said:  I love the Allie series so I am so excited for it to continue with Shame and Terric! Hope I win!!!
Winners, please contact me via the email button in the upper right corner of the blog

with your mailing address and I will get these out this week.
If I don't hear from a winner by
September 9th

(next Monday) I will do a speed giveaway that day, for first comments/first wins.
Book bloggers/reviewers, check your email.  I will be contacting you in just a bit to get the ARCs in your hands too. 
THANK YOU!!!