STONE COLD comes out next spring, but the revisions  are due by end of the month.
These are my editor's comments, printed out single space. I check off each comment when I have addressed it in text. To keep things positive, I make a little smiley face next to it too.  Yes, it's silly and unnecessary, but at the end of a long day I happen to like looking down at a row of happy faces. Sue me. 🙂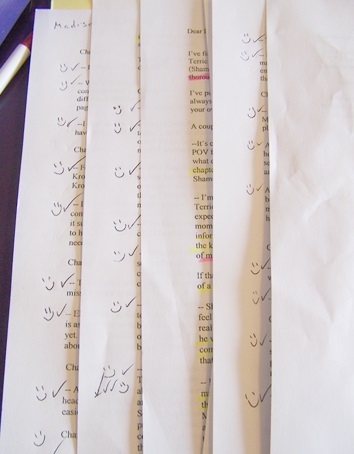 Today I'm working on chapter 14, which needs to be expanded to about double its current length.  I should get through chapter 16 before I stop for the day.
Work in Progress EXCERPT – Stone Cold
This excerpt may or may not make it into the final draft of the book and is an uncorrected, unproofed, work-in-progress. It is from STONE COLD, which, as I mentioned, is book #2 in this series and doesn't come out until Spring 2014.  Book #1, HELL BENT, is out November 5, 2013 and can be preordered now.
I don't consider the below to be a spoiler, but if you absolutely don't want to see any of book #2, click away now.
I'll wait.
You clicked, right?
Everybody gone?
Just us curious cats left?
Okay, here we go! An excerpt from today's work in progress:
STONE COLD
"Let's just settle on a yes/no," Zay said amiably. "You killing people, Shame?"
I hated it when he got specific. "Maybe a little."
Terric's eyebrows went up and he shifted his shoulders a bit.
"Who?"
"Come on, Z. You can trust me."
"Who?"
"Might as well say," Terric muttered. "You know he won't let it go."
I sighed. "There is some business that is none of yours, Zay. This is that business."
Zay nodded, stared at his boot for a minute, his arms crossed over his chest. "You talk to me, or you talk to Stotts. That's the way it is."
"I don't remember you being my boss, Zayvion. This isn't the old days. You don't have any right to tell me what to do."
"Shame," Terric warned.
I didn't need a warning. I knew what Zayvion was–he was Allie's Soul Complement, which meant when Zay and Allie used magic together they were just as dangerous as Terric and me. They could, if they wanted to, reach into the core of magic and do the apocalyptic breakage too.
If anyone was ever going to end my life, if anyone could, it would be Zayvion.
"Who?" Zay asked. "Why? Two easy questions."
I held up one finger. "People," I said. Then held up another, "personal."
Zayvion has this thing that happens when he's really ticked off. His eyes, which are brown, flash with flecks of gold. It was worse back when magic was strong and he was guardian of the gates. Nowadays he had to be all kinds of pissed before there's even a glint of gold in his gaze.
His eyes washed with a metallic shine…