Yes!  I have five (5)  ARCs of HELL BENT up for grabs!  These don't have the pretty cover…um this: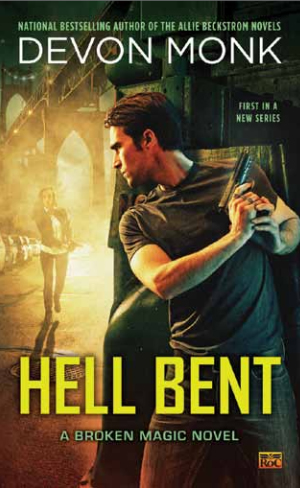 …but they do have a shiny cover.  Seriously, I've never had an ARC with a glossy cover.  See the shiny!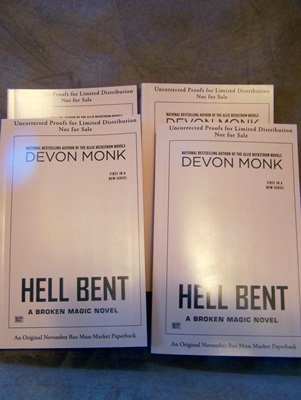 This is book #1 in the Broken Magic series.  It is the first Shame and Terric book.  It is the first spinoff from the Allie Beckstrom series.  Here is what the back cover says it's about:
Instead of the deadly force it once was, magic is now a useless novelty. But not for Shame Flynn and Terric Conley, "breakers" who have the gift for reverting magic back to its full-throttle power. In the magic-dense city of Portland, Oregon, keeping a low profile means keeping their gifts quiet. After three years of dealing with disgruntled magic users, Shame and Terric have had enough of politics, petty magic, and, frankly, each other. It's time to call it quits.
When the government discovers the breakers' secret—and its potential as a weapon—Shame and Terric suddenly become wanted men, the only ones who can stop the deadly gift from landing in the wrong hands. If only a pair of those wrong hands didn't belong to a drop-dead-gorgeous assassin Shame is falling for as if it were the end of the world. And if he gets too close to her, it very well could be….
The actual pretty-cover-(hopefully)-typo-free book will be out November 5th.  But these shiny typo-riddled beauties are up for grabs now!
Since the coming weekend is a three day holiday in the States, I'm going to keep this contest open until Wednesday, September 4th. 
How do you win one of these?  Leave a comment here on my blog.
I will mail internationally.
If winners do not contact me by Monday, September 9, I will offer up the remaining ARCs in an exciting first-comments-first-wins speed giveaway on Tuesday, September 10th.
Book bloggers/reviewers–I have three (3) additional ARCs I would like to offer up for your reading/possible reviewing.  Please contact me via the email button on my blog, and the first three book bloggers/reviewers who contact me will receive an ARC.  I understand that winning an ARC does not obligate the blogger/reviewer to blog or review the book.  🙂