Signing
First a BIG thank you to Maria and Scott at Escape Fiction for putting on a signing for both me and the lovely Diana Pharaoh Francis  on Sunday!
Second, an even BIGGER thank you to readers who came out to chat with us, and of course, get books signed.  It was wonderful to see you again (or meet you for the first time!)
Also a BIG BIG thank you to Brianna, for the rose I took home with me.  It's lovely!!
Escape Fiction puts on a terrific signing and I was very happy to be a part of it!  If you haven't perused their store in a while, might I suggest you swing by?  Terrific selection and good people.
Writing
Revisions on Stone Cold slowed down just a bit so I could put some elbow grease into setting up for the big family barbecue/summer birthday party we had at the old Monkstead on Sunday.  That was also great fun, and we had perfect weather for lingering outside over food and conversation while the kids ran around in the yard.
I do expect to be putting these revisions to bed within the next couple of days. Then I'll be moving on to the next project that I am also really excited about!
Fangirling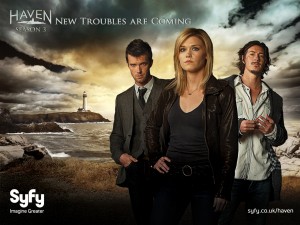 Yes, I fangirl.  I do it rather more quietly than some people, but right now I am a complete fangirl of SUPERNATURAL and HAVEN.  My interest in each show began as a writerly curiosity.  I wanted to see how other people were handling serial storylines in an urban fantasy setting.  These two shows have surprisingly different takes on the urban fantasy trope of people in the modern world dealing with monsters and magic among us.
In the quiet town of HAVEN, the monsters are brought on by "troubles" or mysterious curses that follow different family lines and manifest in those families as powers, or monster-dom.  This is the only show I'm watching on Syfy right now, and I like how the easy answer isn't always: kill the monster.  The humanity of people, even if they are monster-y people, is very much a part of the equation in HAVEN, and so is the question of Fate verses Freewill.
HAVEN Season 4 begins September 13th (in the states) and I'm really looking forward to where they're taking the story.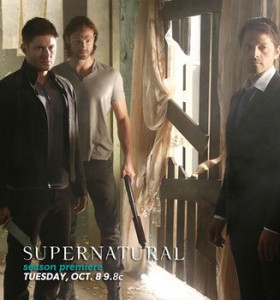 SUPERNATURAL, on the other hand, draws a cleaner line between good and bad.  People = good. Monsters = bad.  So the answer to most Supernatural problems is: kill the monster and save as many people as you can. Or as they put it: Saving People, hunting things, the family business. 😉 These stories don't take place in a town, but are about two brothers who hit the road and hunt down monsters where ever they may be.
I have to say seasons 1-5 are my favorite in this series so far, because I'm a sucker for the big mythic arcs that play out across those seasons.  However, the question of Fate vs. Freewill is a strong thread in this series too, and there have been many of the season 6-8 episodes I've loved.
SUPERNATURAL Season 9 begins October 8th (in the states) and I have my calendar marked.
Are there any other good shows you think I should be watching?