This is my short story collection, A CUP OF NORMAL.  It came out in print format in 2010: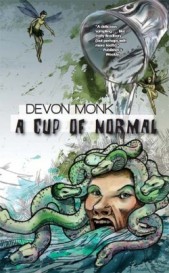 Inside are twenty-three short stories, some that have been printed in magazines and anthologies, some that have not.
The collection was nominated for both an Endeavour Award, and for a Mythopoeic Award.  It has received great reviews, one of which was from Publisher's Weekly and said, "…feels like early Bradbury (but perhaps with more teeth)."
But here's the thing I love about the collection: each story illustrates a part of my journey toward becoming a novelist through experimentation of character, place, theme, pacing, and emotion in the short form.  Quiet plainly, these stories are the breadcrumbs along my path to becoming a novelist, and I am so happy to have them all together in one place.
Today, I'd like to announce that the collection is now available in electronic format!  This is the electronic cover: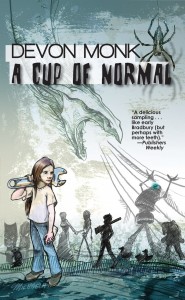 Inside are the same twenty-three stories. If you've bought this/read this in paper format, you haven't missed out on any extra content, but the price for the electronic version is quite a lot cheaper. 😉
So if you're looking for some quick reads; short-shorts that can fill a few moments while standing in line, or waiting for an appointment, of if you'd just like to see some quirky stories that are alternately dark, heartfelt, funny, and strange, then I invite you to sit down, relax, and have A CUP OF NORMAL.