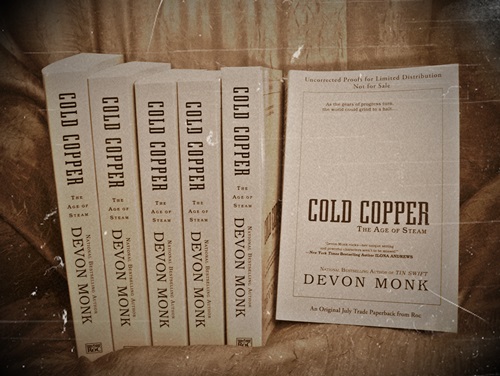 Winners have been announced! Click here to see if you've won!
In yesterday's news post, I mentioned all sorts of good news, including that I'd gotten ARCs of COLD COPPER and I want to give them away!
COLD COPPER is the third book in the Age of Steam series, and doesn't come out until July. This is your chance to get your hands on one nice and early!
I have six (6) copies that I will mail internationally. Remember, these don't have pretty covers, but I will sign them, and they are filled with typos and other silly mistakes.
All you have to do is leave a comment here on the blog–tell me if you read steampunk, or if you have another type of book that is your favorite read, or heck, let me know what you're reading right now and enjoying.
RULES: I will draw winners Tuesday, March 26th, sometime before midnight PST. Winners will have one week to contact me. If I don't hear from winners by April 2, I will do a first-comes first-wins giveaway of the remaining prizes the evening of April 2.
BLOGGERS: I have an additional three books (3) that I'd like to give to bloggers. If you are a blogger who reviews books, and  if you want to read this before July, please contact me by clicking on the little envelopes at the top corner of the page. I will give an ARC copy to the first three bloggers who contact me. This does not mean that bloggers are excluded from the main giveaway. I'm just trying to get the book into the hands of readers who love or want to try the series (thank you, readers! You are awesome!!!) and also into the hands of bloggers who love or want to try the series (thank you bloggers, you are awesome too!)