I took half a day off last week and went out yarn shopping with my sister.  We found the yarn we wanted, but then we also found something amazing.  This fabric: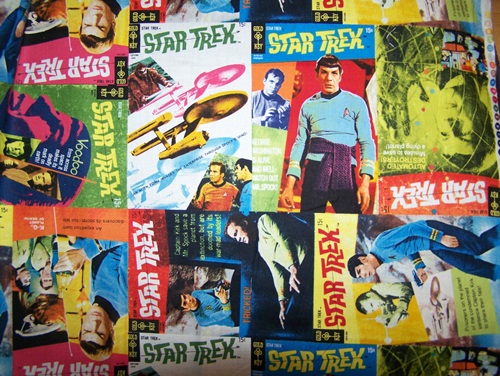 That is some awesome kitsch right there!  I couldn't resist buying a half yard of it, especially when the lady at the counter told me they'd just pulled it off the truck that day and mine was the first cut off of the bolt.
I have NO idea what I should make with it yet…maybe a book bag, or a pillow cover, or a box to hold awesome things, but when I decide what it will be, I will share.
In the meantime, I also found fabric for a project I've had in mind since October.  Remember when I said I bought a pair of boots at the thrift store that were ugly/cute and possibly blood stained, but cheap and comfortable?  Well, these are those boots: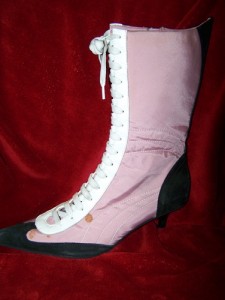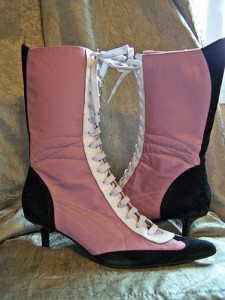 I love the shape of them! Love the adorable kitten heel and pointed toe.  I even love the lace-up-the-front thing, but they are so ugly roller-derby meets Pepto-Bismol.  So I decided they would be an excellent steampunk boot if I figured out how to cover them in fabric. I got busy learning how to use Mod-podge to recover shoes.  My first project was this pair of old flats I've had for years: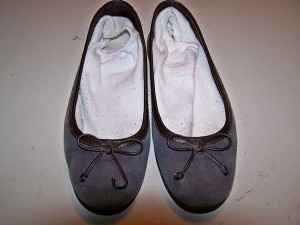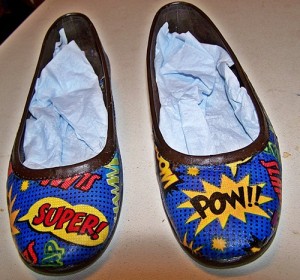 It worked wonderfully!  I used regular Mod-Podge, sprayed them with waterproofing, and ran a line of flexible glue along the seams just in case. So far, they've held up to the rain.  Encouraged by this outcome, I'm moving on to the boots.
Here's the fabric I've chosen: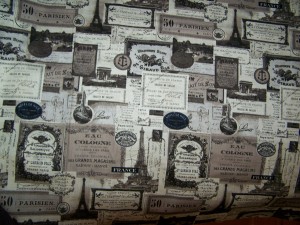 It might be hard to see, but it is old French labels and stamps and such.  My camera didn't quite do it justice, as the fabric is a little more "yellowed" than this picture.  Still…it's just what I was hoping for.
This time I'm using "Outdoor" Mod-Podge and it seems to be working fine.
So far I've only covered one panel of the boot and haven't trimmed anything or really made it pretty….but here, I'll show you the beginning of the project.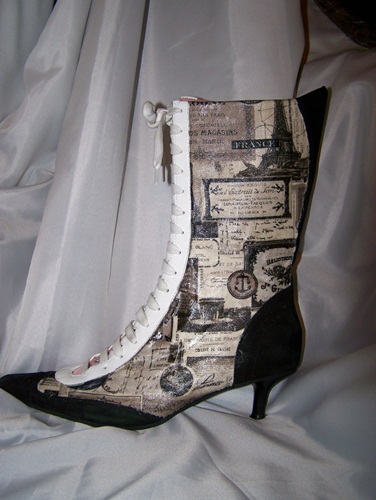 Ooo-la-la!  No more blood stain!  What do you think?  Too crazy or almost-cute?  I'll be sure to update on my progress, but right now, there's a book that needs revising!