To celebrate the last book in the series, MAGIC FOR A PRICE, coming out November 6th, I am doing nine straight days of giveaways!  Each day I'll talk about one of the books in the series, will post cut scenes (if I have them), will answer questions (if you have them)  and will give away three prizes!
Day #1 winners can be found here. ** Day #2 winners can be found here
Day #3 winners can be found here ** Day #4 winners can be found here
Day #5 winners can be found here ** Day #6 winners can be found here
Day #7 winners can be found here
Day #8 winners!
ARC of Magic Without Mercy goes to…
Melanie W.

,
who said:
Magic without Mercy is my favorite book in the series so far. i still have to read Magic for a Price.

Signed cover flat of Magic Without Mercy goes to…
Lora
, who said:
What made you decide on "Miss Mary Mack" for the mantra Allie always goes to as opposed to any other childhood rhyme? I like the fact that it's a known one that we as the readers can say along with Allie while she's trying to clear her head!
Signed copy of Magic for a Price goes to…
Mashiara
who said:
Waffles sound good right about now.
Winners, please contact me with your name and mailing address by clicking on the little envelope button on the upper right of this page. Congrats!
Today's book is #9…the end of the series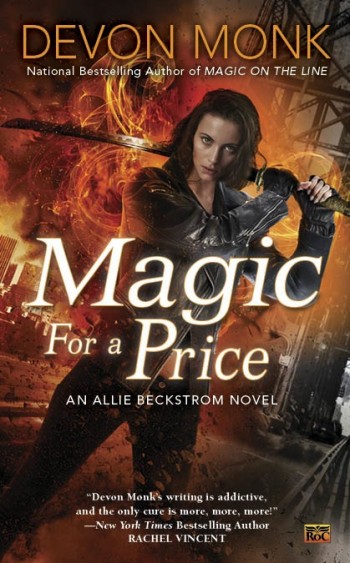 The title says it all
As I mentioned in the last post, I was hoping to use this title for the last book for quite some time.  I think it sums up what the series is about, and also speaks to the massive choices Allie must make in this final book.  My description for this cover was Allie in her leather coat and fingerless gloves, no gun, just a  katana, and all the city burning to ash around her.  Allie is facing a magical apocalypse–the end of the world. Once again, Larry Rostant and the Roc art department nailed it.
How does one say good-bye?
There was a lot to cover in this book, many loose ends I wanted to tie off. But I needed to recap some information from the other eight books too, so it would be fresh in the readers' minds.  The original draft has a much longer (and really, too slow) opening scene.  When my editor read it, she suggested I find a way to cut it or to shorten it and fold the information throughout the remaining novel.  She was right, (of course!) and I worked on doing just that in the revisions. But I also wanted a really fun/catchy first line, something I would be proud to have written for the final book in the series.  It took me dozens of tries before I finally settled on the current first line, which still makes me smile: "I never expected cookies at the end of the world."
This book brings huge changes for everyone, really.  Cody, Allie and Zay, Shame and Terric, Victor, Maeve, Davy, Violet, Nola, Daniel.  The whole world changes.  Magic changes.  Did I know all these changes were coming when I first wrote book 1?  Not all of them.  But some things I knew for sure:
The series takes place over one year of Allie's life.
The end scene of the last book works with the first scene of the first book.
Allie has changed greatly as a character
People she loves die
People she loves change
Her father's greatest sacrifice and plans are revealed
Nothing will ever be the same again
As for the end of the book, I found myself dealing with a different structure than the other books. We get the end of the battle and the scene afterward, which is where my books usually end. But since this was the end of Allie's entire journey, I needed a few more scenes to show this new world she was living in, and the new life ahead of her.  So we get a scene with the members of the Authority and her friends. We get the scene in the park that finally ties up some questions about Allie's past and her father's choices.  And we get the final scene that shows Allie that even though she has paid many prices, her life has become something more wonderful than she dared to hope for.
One last word to you, dear readers
Allie isn't the only one who went on a life-changing journey over the course of these books.  Before writing book 1, I had never published a single novel.  I'd never seen a novel contract, never negotiated terms, never tried to reach out to the urban fantasy writing community (which is different than, but similar to the fantasy, paranormal romance, science fiction, mystery, horror writing community) and had never been under such life-changing deadlines in my life.   I'd never done blog tours, interviews, Q&A's. I had never tried to reach out to readers and the novel-reading community.  I'd never been so harshly reviewed (I came up through short fiction, so had received my share of positive and negative reviews there), nor so highly praised.
At the start of this series, I'd barely succeeded in writing a single novel in a year. In four years time I have written twelve novels.  That works out to about three novels a year–a pace that feels a little deadline-intense, but relatively do-able for me now.
These books track the beginning years of my writing journey as I continue to learn to become the best novel writer I can be…a journey that I will be pursuing for the rest of my life.
And best of all, these books have given me the chance to "meet" all of you. Whether you've read one, or some, or all of them, I want to thank you from the bottom of my heart for taking a chance on these books.  Thank you for letting me share these people with you. Thank you for your comments, thoughts, reviews.  Knowing there are people out there reading and enjoying my stories gets me through the rough days and reminds me that I have the best job in the world.
Most of all, thank you for giving Allie and Zay and Stone and Shame and Terric and all the rest of them a little place in your life.
Excerpts – Now….and the future
A quick deleted scene from Magic for a Price…
Shame and Terric walked our way. Not at a fast pace, and far enough apart weaving through the crowd that it didn't exactly look like they were walking together, even though they moved at the same pace, in the same step.
People unconsciously turned and watched them as they passed, either smiling and leaning toward them, or frowning and shying away.
Even at a distance, the two of them certainly drew the eye. Darkness and light, life and death, sin and salvation. But beneath what magic had done to them, beneath what magic made them seem to be, I could see my friends.
Shame looked tired, but curious, his gaze locked on me as he pressed through the crowd. Terric looked tired but calm, and made a point to nod at the people he passed, or exchange a quick greeting.
"So," Shame said as he stopped next to Zayvion and me. "What's the rest of your plan, Beckstrom? Please tell me it is both dangerous and reckless."
An excerpt from the work in progress–the Shame point-of-view BREAKER book that will be out next year…
(I haven't even shared this with my editor. It might or might not make it into the actual book once it hits print. But here it is, a first-draft non-edited sneak peek:)
I glared at Terric through my sunglasses.
He glanced my way and just as quickly dismissed me.
"You two still fighting?" Zayvion asked. He and Allie stopped next to me.
They stood there, arm-in-arm, Allie just an inch or two shorter than Zavyion's six-foot-something. She wore a tank top that showed off those kick-ass magic-born tattoos down her arm and the bands of dusty black ringing her other wrist and elbow. Now that we weren't on the run for our lives, both Allie and Zay had put on about ten pounds, and lost the dark circles under their eyes. They smiled more, laughed more, and had that calm dedication to each other that meant they never walked into a room without being hand-in hand.
It was a little nauseating.
I figured kids couldn't be far off now.
Zay was wearing a t-shirt and that necklace he never took off.  Apparently, it had been an anniversary gift from Allie. Apparently, they were counting those sorts of things now.
"You know how Terric is. Stick up his ass." I leaned toward Zay just a bit and pulled my glasses down. "Which he enjoys," I added.
Allie rolled her eyes. "We haven't seen you much lately. What have you been doing Shame?"
"Who. Ask me who I've been doing."
"You have a girlfriend?"
"Been spending my nights with a beautiful, full-bodied flaxen vixen."
"So, a bottle of whiskey?" Zay asked.
I grinned. "Ah, now. Do I look like a lad who'd kiss and tell?"
Zay gave me one of those looks of his that might wound a man who still had a heart. "You're in a slump, Shamus. And if you don't pull out of it, I'm going to pull you out. By your nostrils."
"I like how you think I'm afraid of you, Jones. What are you going to do? Throw magic at me?"
"Yes," Allie and Zay said at the same time.
AND NOW THE GIVEAWAYS!!
You can win one of these prizes! Leave a comment here on my blog and you're in the running.  You'll need to leave a comment on tomorrow's post if you want to be in the drawing for tomorrow's prizes.
Today's prizes:
1 – signed cover flat of MAGIC FOR A PRICE
1- signed ARC of MAGIC FOR A PRICE (no pretty cover)
1- signed copy of MAGIC FOR A PRICE
I will mail internationally.  I will pull winners TOMORROW–Tuesday, November 19th. If any of the winners fail to contact me within a week's time, I will redraw names or hold a one-day post where all unclaimed prizes go to whoever asks for them first.