To celebrate the last book in the series, MAGIC FOR A PRICE, coming out November 6th, I am doing nine straight days of giveaways!  Each day I'll talk about one of the books in the series, will post cut scenes (if I have them), will answer questions (if you have them)  and will give away three prizes!
Day #1 winners can be found here. ** Day #2 winners can be found here
Day #3 winners can be found here ** Day #4 winners can be found here
Day #5 winners can be found here ** Day #6 winners can be found here
Day #7 winners!
ARC of Magic on the Line goes to…
Miranda,
who said:
I can't wait to read about Shame and Terric! The more snippets you post the more excited I get!
Signed cover flat of Magic on the Line goes to…
Martin,
who said:
Another chance to win, can't wait
Signed copy of Magic for a Price goes to…
Jeff Lageson,
who said:
I am sitting here with 46 pages left in the last book, knowing that when I read it that I will never have a first read of the series again … hence I am savoring it for a bit.
Winners, please contact me with your name and mailing address by clicking on the little envelope button on the upper right of this page. Congrats!
Today's book is #8…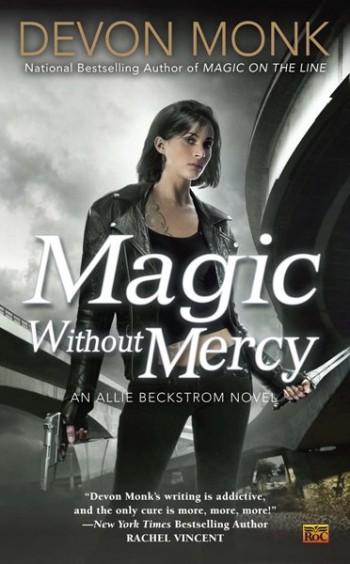 The Title-fu is strong with this one

I had this title in mind since book 1.  As a matter of fact, I was pretty sure I wanted the last two books in the series to be Magic without Mercy and Magic for a Price.  When I sent title suggestions in to my editor I told her the way the books work, the titles could be switched, so that Price was book 8 and Mercy was book 9. But I told her I really wanted those two titles, if she thought they were usable. After some thought, she liked Mercy as 8 and Price as 9.  I wholeheartedly agreed!  So by the end of the nine-book series, I think I *finally* got the hang of how to title my books, lol!
Black is the new black
Allie gets a wardrobe change!  Okay, since I forgot to mention this when I was talking about book #3 Magic in the Shadows, I'll quickly note it here. Allie wears a black tank top and jeans on every cover up to this point except for #3 Magic in the Shadows. On that cover…here let me post it…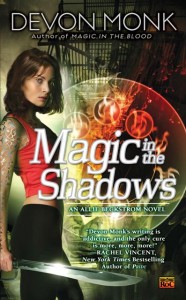 …She is wearing a red tank top and black tights.  I love the cover (there's even a gargoyle hunched down in the background between "Shadows" and her machete) but when I first saw it, I was surprised to see her in tights instead of jeans. I emailed my editor and agent and told them I LOVED the cover, and then (teasingly) "tights? she's fighting crime in tights?" and they both replied "yoga pants!" Which made me giggle even more.  I mean, that makes much more sense: fight crime in yoga pants. From an artistic perspective I can see how the tights–I mean yoga pants–work, and I think the cover is great.  However, when I first saw the cover of book #2….hold on, let me post that one….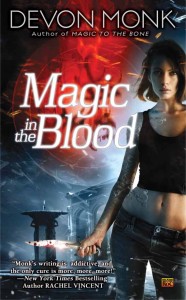 I realized it showed us a scene of Allie outside wearing a tank top in the middle of  winter in Oregon.  Because I was right in the middle of revising that book at the time I received the cover, I decided to change a scene to match the cover. She pulls off her coat, sweater, and shirt, and does indeed step out into the cold wearing her tank top and jeans.
For Magic in the Shadows, I was willing to mess with the text a bit to make the cover work, but there was already a scene where she was working out with Zayvion. So I figured she owned workout pants, and heck, why NOT fight crime in your comfortable clothes?
All of which leads me back to the cover of Magic Without Mercy.  Let me post it too…
  Allie is in a leather jacket and fingerless gloves. If you've read the book you know why–Allie is on the run, and hiding from the law and other people who want her dead.
I want to take a moment to give a huge shout-out to the artistic team on this book: artist Larry Rostant and the art department at Roc.  One of the things that makes an Allie book easy to spot in a line up of books in the same genre, is the markings on her arm and the fact that we can see them.  Putting her in a jacket and gloves took away that distinct feature, and this cover is the second in the series not to have a circle of magic behind her.  Yet the cover still shouts "ALLIE!" We know this is our girl, and that things have changed for her in some really big ways.
My description for this book was that she was on the street, on the run, and about to get into the biggest battle of her life with no guarantee she or her friends would survive.  She's sad, hurting, but determined. She won't back down and she won't stop fighting, no matter the cost.
I think Larry Rostant caught that perfectly in this cover.
So late in the series, an unexpected character comes knocking
Eli Collins. We first meet him in Magic on the Line, and he was a complete surprise to me. I had no plans of adding him into the books, and only discovered him when Allie needed someone outside her group she might trust to look after Davy.  When Allie's dad suggested Eli, I was like, oh, cool! We've got someone we can call on here. But when I actually started writing Eli on the page I was like…"oh-ho! This guy is full of secrets and agendas." Then we see Zay's reaction to him, and Shame's reaction and I realized Collins the Cutter had some bad juju in his past and maybe in his present too. But he also does some pretty damn good things for our good guys. All at a price, of course.  For a character I did not expect to ever write, I am so glad he showed up, because honestly, he's wicked fun. 🙂
Excerpts! I have them!
Mother and son on the battlefield…
"Come on, Terric," I said, pulling him to a sitting position, "it's time to go."
He wasn't very awake, but I was more than determined enough for the both of us. I couldn't carry Shame with us too, and he was still flat on his back, breathing between curse words as if every bone in his body was bruised.
And maybe they were.
Maeve knelt and touched Shame's face. His eyes fluttered open.
"Mum?"
"We're going now, Shamus," she said in a no-nonsense tone. "On your feet, love. I'll help you, but it's going to hurt. Are you ready, then?"
Shame inhaled, exhaled. "Terric?"
Maeve smiled and brushed Shame's bangs back away from his face. I'd never seen Shame so pale, never seen his bones so clearly beneath his skin. And I'd seen Shame looking pretty rough the last few months.
"He's fine, now. Fine. Right there with Allie, walking. Which is what you need to be doing now too."
Shame swallowed, nodded. "Just give me a push," he said.
Maeve did better than that. She pulled his arm up and helped him sit. Shame groaned through gritted teeth, but somehow, Maeve got him up and standing.
Waffles can wait…
"And what does your father get in return for doing this for us?" Victor asked, turning back to the waffles.
"I don't know," I said. Yes, it worried me.
But it was something I'd deal with later. Magic always cost something, always made you pay the price. I'd handle it when I had to.
I walked out into the living room. People were stirring. Zay was awake, sitting on the couch.
"Where'd you go?" he asked as I walked over to him.
"To find the kitchen. And look," I held out my cup to him. "It had coffee."
He stood, winced, then exhaled as he straightened the rest of the way. "Got a morphine chaser to go with that?"
"Just waffles."
He sort of half nodded, then took a drink out of my cup. "Waffles sound decent."
"Victor's making them."
"Better than decent. He'll put cinnamon in them."
I smiled and took my cup back. "We need to eat and hit the road," I said.
"I could use a shower." He plucked at his sweaty, blood-stained shirt.
"How about I join you?" I said.
"What about the waffles?" he asked.
"Waffles can wait."
AND NOW THE GIVEAWAYS!!
You can win one of these prizes! Leave a comment here on my blog and you're in the running.  You'll need to leave a comment on tomorrow's post if you want to be in the drawing for tomorrow's prizes.
Today's prizes:
1 – signed cover flat of MAGIC WITHOUT MERCY (note in the picture below that's the book. I have a cover flat around here somewhere. If I can't find it, winner gets a signed copy of Magic Without Mercy, or any other book in the series.)
1- signed ARC of MAGIC WITHOUT MERCY (no pretty cover)
1- signed copy of MAGIC FOR A PRICE
I will mail internationally.  I will pull winners TOMORROW–Sunday, November 18th. If any of the winners fail to contact me within a week's time, I will redraw names or hold a one-day post where all unclaimed prizes go to whoever asks for them first.