To celebrate the last book in the series, MAGIC FOR A PRICE, coming out November 6th, I am doing nine straight days of giveaways!  Each day I'll talk about one of the books in the series, will post cut scenes (if I have them), will answer questions (if you have them)  and will give away three prizes!
Day #1 winners can be found here. ** Day #2 winners can be found here
Day #3 winners can be found here ** Day #4 winners can be found here
Day #5 winners can be found here
Day #6 winners!
ARC of Magic on the Hunt goes to…
Tanya M
, who said:
Another chance to win…and more snippets!
Signed cover flat of Magic on the Hunt goes to…
Kristie Quon,
who said:
Love the Beckstrom Novels. After reading the last book, I was sad that this was it and didn't want it to end. But I can't wait for the Breaker series! I'm so excited!
Signed copy of Magic for a Price goes to…
Jason B.
, who said:
That's interesting about the cover consult. I didn't think any authors got that luxury.
Winners, please contact me with your name and mailing address by clicking on the little envelope button on the upper right of this page. Congrats!
Today's book is #7…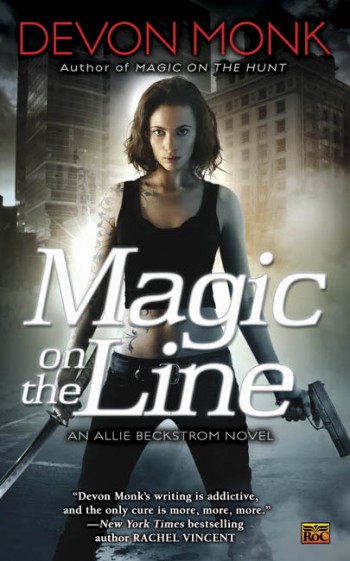 We Begin the Last Trilogy in the Series
So here we are at book 7.  This starts the final three books of the series.  It gathers together all those hints and questions, and brings them up again.  And of course things get worse for our good guys.  Here on the cover we see Allie with the katana and a gun in her hand.  Since there are several people reading this blog who have mentioned they haven't read the series, I won't go into detail, but I love this cover because of the starkness.  Allie is front-and-center, squaring off against the world, ready for a fight. There is no magic around her, only fog.  She's on the street, surrounded by gray, alone.  Her world, her stance, is now a very different one and the cover captures that mood perfectly.
If you've read MAGIC ON THE LINE, you know Allie's entire world turns upside down in this book. She makes a decision that she will regret for the rest of her life.  I waffled on that scene near the end of the book, where Allie makes that hard decision.  I wrote it, sat back and thought about it for a couple days.  It was one of those decisions that changes a person's life. Even though this is just urban fantasy and not the real world, one of my main goals is for the people inside these books to act like real people would–no matter the situations they find themselves in.  Real people would know there are consequences for actions.  Allie knew there would be consequences for her actions, and did them anyway.  The scene stayed in.
Q&A From the Comments
1. Why are there no markings on Allie's face on the covers?
I have no idea. Maybe facial tattoos don't test well in the market? (i.e. they turn readers away?) Maybe the artist didn't like the look of them? It's one of those things that I really had no say over, although I sent a description with every book that included Allie's marks on her face.
2. (Combo question) Do you have a certain person/actor in mind for your characters and/or which actors/people do you think could play your characters?
I don't have actors in mind for my characters. When I first realized (a couple years ago) that some authors created characters this way, I thought that was a really cool idea. But that's never been my "default" mode for creating characters. I have done it occasionally now, mostly for minor characters, and sometimes I'll go try to find someone who looks like my characters after I've created them.
Back when book 1 or 2 came out, I held a blog discussion encouraging people to post a picture of "their Zayvion"  I had maybe 100 responses, and probably 30 different "Zayvions" that people pictured in their minds when they read about him. That was SO MUCH FUN.  It also taught me something: we are all incredibly imaginative creatures and can easily fit the "look" of our favorite guy into the role of the hero (or heroine, natch.)
When I choose an actor or actress, I feel like I'm negating other people's image of who the character is.  I'm raining on their imagination parade. That's why you won't often hear me picking a real person as a model for a fictional person.  HOWEVER, if readers are up for it, I would totally open up the blog for a "Who is your _____?" (character of choice) and we could share our thoughts and photos!
3. Any chance we'll see these as movies? Would you have a preference of actors/actresses then?
At this point? Nope, no movies. Honestly, I don't think my sales are at a threshold that brings Hollywood running my way with fists full of cash. 😉  But if that ever changed, you bet your boots I'd have a preference of actors and actresses.  Not that I, the writer, would really have much say over it (generally writers have even less say in the creative process when Hollywood is involved) but I'd at least put in my two cents!
4. Audio books. Do you have a say in those and hey, by the way, how come I can't get books 8 & 9 in audio?
The audio sale to Tantor was done via my publisher (yay, publisher!) and I had zero say over the production of the audio versions other than a few emails to clarify pronunciation with the voice talent.  Tantor isn't interested in books 8 & 9 at this point (sales were not what they wanted). So unless I or my publisher find another audio house or Tantor shows renewed interest, there will be no audio for 8 & 9.  Them's the breaks, folks. The sad, sad breaks.
5. Are you going to write another female point-of-view book?
I love this question! Well, right now I am writing the Age of Steam steampunk books, and we get chapters from Mae Lindson's and Rose Small's points of view.  So I am currently writing books that include both male and female points of view.  Even more good news is that I have another first-person female point of view series I'm working on that falls nicely in the urban fantasy genre and (I hope) has a nice little fresh twist to it.  I will post here on my blog as soon as I have any news on that project.
Oh no! I have no snippets! How about a free holiday story instead?
Last year right before Christmas, I wrote a really quick, rough draft short story.  It is a scene with Allie and Zay and Shame and Stone getting together over the holidays.  The scene is set between book 3, MAGIC IN THE SHADOWS and book 4, MAGIC ON THE STORM.  It is free to read on my web page.  I thought I'd put the beginning of it here too.  There's a link at the end if you'd like to read the rest of story.
MAGIC ON A HOLIDAY
copyright 2011 by Devon Monk
"Christmas tree and a gargoyle," I said, watching Stone lift up on tip-toe to place a shiny red bulb on a branch.  "Two great things that go great together. Who knew?"
Zay sat on the floor, my poorly packed and therefore highly tangled ornaments and garland spread out in front of him in a lumpy pile.
"They go great together," he said, "after the gargoyle learns the meaning of 'fragile' and 'don't step on that,' and 'indoor trees are not for gargoyles to climb.'
"Aw, he didn't know any better."  I held out my hand and Zay dropped a silver bulb in my palm.  "And he didn't break anything with sentimental value.  I think."
Even small things, little times like this, I was reminded that my memory had holes in it.  For all I knew, that silver bulb in my hand was given to me by someone special.  A friend, an old babysitter, my mother.  Not that I'd ever know.
It glittered with promise, with mystery.  The enigma of my past, Christmases lost.
A smooth gray finger stretched out to tap the bulb with the 'tink' of stone meeting glass.  I looked down at Stone.
He was sitting, which we'd told him he had to do before we would give him ornaments, his ears perked up, his eyes wide with sugar-high excitement.
"You want this one, boy?"
He crooned pitifully and his wings quivered against his back.
"Sit.  Hands to yourself."
Stone pulled his hand away and curled his fingers around his toes.
I dangled the bulb from one finger.  "Ready?"
He made a strangled burble.
"Fragile," I said, holding it out to him.
Stone plucked it from my fingers very carefully, then held it against his chest as he waddled over, two-legged to the tree to hang it there.
"How goes the battle?' I asked Zay.
He took a moment to assess his progress on the holiday snarl.  "Am I allowed to use a hammer?"
"No."
"Then at this pace…I should be done by Christmas.  Next year."
"My hero.  How about a hot buttered rum?"
"God, yes."  He stood and stretched.  "You know you could get some new decorations.  You do have a fortune to your name."
"And miss out on your amazing untangling skills?  Never."
I headed to the kitchen then put the kettle on to heat.
There was a knock at the door.
"I'll get it," Zay said.  "You expecting someone?"
"No."
"Merry merry, nice and naughty and all that," Shame said, "why wasn't I invited?"
AND NOW THE GIVEAWAYS!!
You can win one of these prizes! Leave a comment here on my blog and you're in the running.  You'll need to leave a comment on tomorrow's post if you want to be in the drawing for tomorrow's prizes.
Today's prizes:
1 – signed cover flat of MAGIC ON THE LINE
1- signed ARC of MAGIC ON THE LINE (no pretty cover)
1- signed copy of MAGIC FOR A PRICE
I will mail internationally.  I will pull winners TOMORROW–Saturday, November 17th. If any of the winners fail to contact me within a week's time, I will redraw names or hold a one-day post where all unclaimed prizes go to whoever asks for them first.