To celebrate the last book in the series, MAGIC FOR A PRICE, coming out November 6th, I am doing nine straight days of giveaways!  Each day I'll talk about one of the books in the series, will post cut scenes (if I have them), will answer questions (if you have them)  and will give away three prizes!
Day #1 winners can be found here. ** Day #2 winners can be found here
Day #3 winners can be found here ** Day #4 winners can be found here
Day #5 winners!
ARC of Magic at the Gate goes to…
Atzimba, who said, I like the idea that there were mini series within the series. That makes me want to go back and reread everything with a more discerning eye. I must admit I love the fast pace of each novel and the plot twists! I didn't like the sacrifice Allie had to make but I understand why she did. I haven't read the final book yet but I'm dying to!
Signed cover flat of Magic at the Gate goes to…
sato7
, who said,
Another chance to win!!
Signed copy of Magic for a Price goes to…
Northwoman,

who said,
This book was frightening to me. I LOVE Stone. Thanks for the scenes and info and giveaways.
Winners, please contact me with your name and mailing address by clicking on the little envelope button on the upper right of this page. Congrats!
It's time for book book #6…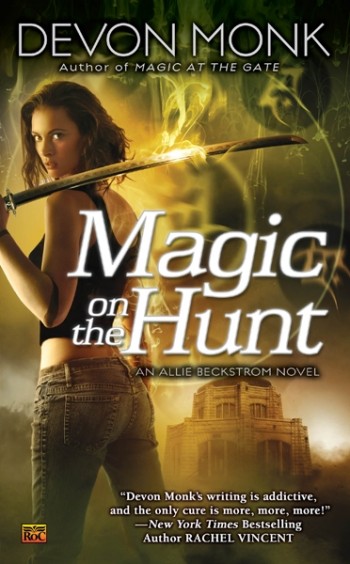 Covers: Who's Idea Is This, Anyhow?
I had a couple questions in comments on whether I know who the model is on the covers, if it is a different woman later in the series, and basically wondering how much say I had in the whole cover art thing.
This is probably different for every writer/editor/art department/artist, but here's how it works for me:
When book #1 had been turned in, my editor asked me for suggestions for the cover. This is because I have "cover consult" in my contract, which basically means I can have *some* say or offer *some* suggestions on the covers. It does not mean I can veto a cover, nor that all or any of my ideas will be used. Some authors don't have cover consult in their contracts, and that means they don't have much of a foot to stand on if they want to fight for a cover change. Luckily, I have an amazing editor who went to bat for my series covers. Also luckily, she chose the wildly-talented artist, Larry Rostant, who "gets" Allie and her world and brings her to life for us all to see. The woman is a model he works with, I believe, and I don't know her name, nor if the model changed as the series went on. (Although, I DO wonder….)
One of the things I do to help with the cover is I sendalong images from the Portland Oregon area that have something to do with the book. You'll note that on this cover we see the Vista House at Crown Point in the background.   Along with those images, I send a quick paragraph about an exciting scene or two in the book, and recap Allie's physical description and what kind of weapon she's using.
I used to include descriptions of other characters, such as Zayvion and Stone, but when a series "style" is agreed upon, it is my experience that the elements remain the same throughout the series. Allie's covers fit squarely in the urban fantasy genre. What I find fascinating is that every genre has its own "short hand" for letting readers know at a glance what genre it is. If you see a space ship on the cover–good chance it's science fiction. Dragon? Probably high or epic fantasy. Bare chested man in a "clinch" with swooning woman–romance, my friends.(Yes, I know there are exceptions and that these examples are painting with broad strokes. I find the decisions behind cover design intriguing and fun, but don't have room to go into detail about that here.)  Cover art and design is an *art* and science, and I respect the puddin' out of people who do it, and do it well.
So what's urban fantasy's short-hand to let readers know what kind of book it is? Modern day kick-ass chick (or dude) front and center, usually with a weapon of some sort and/or tattoo. For instance, the Allie books are a woman with a weapon, seen from the knees up, with a circle of magic behind her and a "tattoo" on her arm. Other things change, but those things are present in each cover. Many urban fantasies follow a similar formula. Patricia Briggs Mercy Thompson covers always put Mercy (and her amazing tattoos) front and center, but instead of a weapon she often has a tool or something else that shows that she's a mechanic. Jim Butcher's Harry Dresden books always have Harry in hat and duster with his staff (or gun) as the main cover image.
Generally, the style that starts a series ends a series, so there really isn't much of a chance that somewhere in the middle of my series Zayvion would start showing up on the cover. More's the pity!
New Endings/New Beginnings
Quite a lot goes down in this book. Allie finds that wooden box locked up in her father's safe that might contain something important. We see a deal her father had made with a man who may or may not be on our side come to fruition. The ex-guardian of the gate turns up. Shame and Terric are tested. Stone is reunited with Cody. A baby is born, people are injured, people die. And more.
One of the things that didn't happen is this: I really wanted to delve into the Proxy pits–basically medically supervised facilities that pay people to bear the price of pain for magic other people want to use. I'd been thinking about "legal" Proxy pits since book 1, and even though I snuck in a quick peek here in book 6, I didn't have room to go into it in more detail. Darn it.
Cut scenes – Two quick snippets
Allie confesses to Detective Paul Stotts…
"I don't know. I only found out about the Authority this year. Mostly after my coma. And they don't want their information shared. At all."
"Did they threaten you?" Stotts asked.
"It's a standing rule that when you leave the Authority, they take your memories of the Authority away."
Stotts was very still. "Can they do that?"
"Yes. Without damage, and without notice."
"Your memory losses are from them?"
"No. That's magic, I think. Though it might have been my dad too, when I was younger."
What if things had gone differently with that small magic…
Sedra tossed the rose toward me.
Without thinking, I reached out for it, caught it, though I could not feel it. The faint outline seemed to soak into me, into my skin, sending the slightest wash of light up the marks of magic on my hand. It was no much more than a ghost of my small magic, a token of what I had once carried, a thin consolation. The scent of it–rose and rain–was so light, I wondered if I imagined it.
AND NOW THE GIVEAWAYS!!
You can win one of these prizes! Leave a comment here on my blog and you're in the running.  You'll need to leave a comment on tomorrow's post if you want to be in the drawing for tomorrow's prizes.
Today's prizes:
1 – signed cover flat of MAGIC ON THE HUNT
1- signed ARC of MAGIC ON THE HUNT (no pretty cover)
1- signed copy of MAGIC FOR A PRICE
I will mail internationally.  I will pull winners TOMORROW–Friday, November 16th. If any of the winners fail to contact me within a week's time, I will redraw names or hold a one-day post where all unclaimed prizes go to whoever asks for them first.