To celebrate the last book in the series, MAGIC FOR A PRICE, coming out November 6th, I am doing nine straight days of giveaways!  Each day I'll talk about one of the books in the series, will post cut scenes (if I have them), will answer questions (if you have them)  and will give away three prizes!
Day #1 winners can be found here. ** Day #2 winners can be found here
Day #3 winners can be found here
Day #4 winners!
ARC of Magic on the Storm* goes to…
MightiMidget, who said: This series sounds like a lot of fun.

It's on my list of things to pick up soon!
Signed cover flat of Magic on the Storm* goes to…
Sharon Dyer,
who said:
Love all these giveaways you are doing! You're fantastic!
Signed copy of Magic for a Price goes to…
Spav,
who said:
More Shame is always good news.
*Correction: I accidentally said Magic in the Shadows, book 3, when these winners are actually getting Magic on the Storm, book 4 prizes. Sorry for the confusion!
Winners, please contact me with your name and mailing address by clicking on the little envelope button on the upper right of this page.  Congrats!
Today's book is book #5…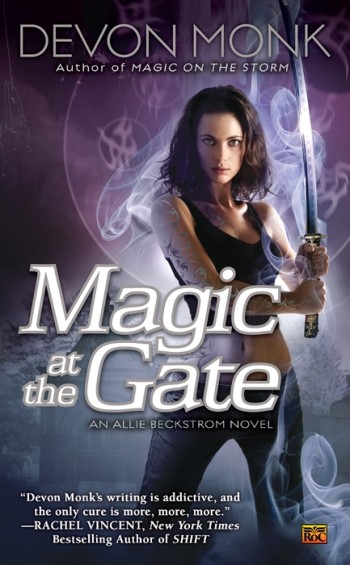 Her heart stopped beating, didn't it?

One of the great things about having a title "style" for a series is that readers can quickly recognize that the books all belong together. This is especially good when there are several books out there with similar anchor words in the title. For instance, the fabulous Ilona Andrews were writing their "Magic" urban fantasy books at the same time I was writing my "Magic" books. It's important for our titles (and all the other "Magic" book titles) to be distinct enough that a reader is never confused as to which book belongs in which series. –Oh, and if you haven't read the Andrews' Kate Daniels series, you are missing out on truly excellent urban fantasy. Go! Try it! Read it! Love it! You won't be sorry!–
Anyway, my series has this great three-beat title thing going: Magic somethingsomething Thing! Other than book 1, this book was the most difficult to title in that style. I was leaning toward Death or Dead or Grave, (and you people who suggested other things like Magic up the Wazoo" –I'm looking at you, Deb–you were *so* helpful. 😉  ) but none of those words seemed to work.  My editor finally chose Magic at the Gate from the list of suggestions I sent her, and I think it works quite nicely.
Why So Muddle, Middle?
Lora asked me a question in the comment section yesterday that I'd like to touch on here: "At what point did you know how you wanted the series to end? And how did you choose to write 9 books (as opposed to any other number)?"
I knew how I wanted the series to end the moment I finished the first book.  Don't get me wrong–I love series that go on forever.  But even more, I love a series that tackles a big question or mystery and then works it out over several books. I'm the same way with TV series. I like the "monster of the week" shows, as I like to call them, where our heroes get in a tussle with a bad guy who is defeated and wrapped up in a nice bow by the end, ensuring our hero can start fresh on a new little adventure with a new little bad guy next week.  But series that do that AND also carry a longer story line, a larger mystery, a bigger question, a darker danger which must also be solved makes me even happier.  I don't like endings, really.  But I love the satisfaction of feeling like I got to experience a WHOLE story, not one that dragged on, petered out, and faded away.
Why 9 books? In my head they are three trilogies. Book 1-2-3, Book 4-5-6, Book 7-8-9.  Each has a beginning, middle, end. Each has a "little" bad guy (monster of the week).  And each serve to explore the bigger question, the bigger mystery, the REAL conflict and danger.
That being said, book 5 is squarely the middle of the series. It had to act as both a wrap-up book for the first 4 books, and a set-up book for the next 4 books. I see it as a "hinge" where halfway through, the stakes are raised for the book and for the series. One reviewer (yes, I do sometimes read reviews) said it felt like two books stitched together into one.  I think that's a pretty fair assessment, and also proves that I have smart readers!
Being the mid-point in the series made it really challenging to write.  But it's also a book where Allie and Shame get to shine, which made it a lot of fun.
Sacrifice Sucks
You use magic, it uses you back. That's one of the basic themes of the books and the world Allie lives in.  Still, I received several emails from readers who did not like that Allie had to give something up in order to save Zayvion. And even though it was a big sacrifice, I think Allie would do it a hundred times over to save the man she loves.  We get to see how that sacrifice REALLY turns out in book 9, and I hope it feels like a satisfying conclusion. 🙂
With Our Bright Evil Faces
We are introduced to one of the biggest bad guys in this book, someone who will break all the rules to get their way, someone who has powers that frighten even Allie's father.  I knew this character had to arrive in this book and had done the basic research for the character back in book 1 or 2, but this was the book where I worked out all the details for this big baddy.
Cut Scenes – Two bits from the cutting room floor…
What if Davy had been there when Allie walked out of Death instead of Detective Stotts…
"It's a mistake. I have to get him to the inn. Vancouver. Maeve's place."
"I know where it is." Davy frowned. Looked over at Stone, who wasn't moving much. Looked back at me.
"Can you walk?"
"Yes."
"I don't know how we're going to carry that."
"He'll walk."
Davy flashed me a quick smile. "Of course he will. And I just bought a pound of flying bacon this morning."
I gave him the dirtiest look I could manage, and held my hand out for him. Davy took my hand, and did more than me to get me standing. I locked my knees.
"Shit," I whispered. There was a ringing in my ears, and it had nothing to do with my dead dad in my head. I was very close to passing out.
Davy tightened his grip on me, his arm around my waist, my arm over his shoulder. "I'm not seeing a lot of walking going on," he said.
I lifted my foot, put it in front of me. Did the same with the next foot.
"Think you can make it to the car?"
I didn't waste time answering.
Davy stiffened. "Son of a bitch."
I didn't know what was happening. Davy stopped, so I did too. Stone trotted up next to me, and made a raspy sound. He grumbled like a bag of rocks, then cooed louder, like he had just figured out how to make that noise. He swiveled his head to look up at Davy and me, cooed again victoriously, then trotted off toward the parking lot.
"How you like your bacon now?" I mumbled.
The Unsung Pun…
"How do you feel?" I asked Zay.
"Like death warmed over."
I groaned.
"Too soon?"
"For that pun? Yes." I leaned down, kissed him gently on his lips, which tasted slightly salty from his sweat. "I'll see you soon, Hero."
"Don't do anything I would," he said.
"How about I just promise to be careful?" I glanced up at the doctor. She didn't look concerned. As a matter of fact, she looked the most relaxed I'd seen her in days. That was a good sign.
I picked up my coat off the foot of the other bed and left the room before putting it on. If I looked over at Zay again, I don't think I'd be able to leave the room. Everything inside of me wanted to stay.
But I know exactly what Zayvion would do in my place. He'd go out and take down the bad guys.
AND NOW THE GIVEAWAYS!!
You can win one of these prizes! Leave a comment here on my blog and you're in the running.  You'll need to leave a comment on tomorrow's post if you want to be in the drawing for tomorrow's prizes.
Today's prizes:
1 – signed cover flat of MAGIC AT THE GATE 
1- signed ARC of MAGIC AT THE GATE (no pretty cover)
1- signed copy of MAGIC FOR A PRICE
I will mail internationally.  I will pull winners TOMORROW–Thursday, November 15th. If any of the winners fail to contact me within a week's time, I will redraw names or hold a one-day post where all unclaimed prizes go to whoever asks for them first.