To celebrate the last book in the series, MAGIC FOR A PRICE, coming out November 6th, I am doing nine straight days of giveaways!  Each day I'll talk about one of the books in the series, will post cut scenes (if I have them), will answer questions (if you have them)  and will give away three prizes!
Day #1 winners can be found here. ** Day #2 winners can be found here
Day #3 winners!
ARC of Magic in the Shadows goes to…
Lora, who said: I would love to know more of Zay's back story please! And I'm absolutely loving all the behind-the-scenes looks at the books!
Signed cover flat of Magic in the Shadows goes to…
Sheila, who said: Thank you for the chance to win such wonderful prizes!
Signed copy of Magic for a Price goes to…
evening-green
, who said: Thanks for another amazing giveaway!
Winners, please contact me with your name and mailing address by clicking on the little envelope button on the upper right of this page.  Congrats!
Today's book is book #4…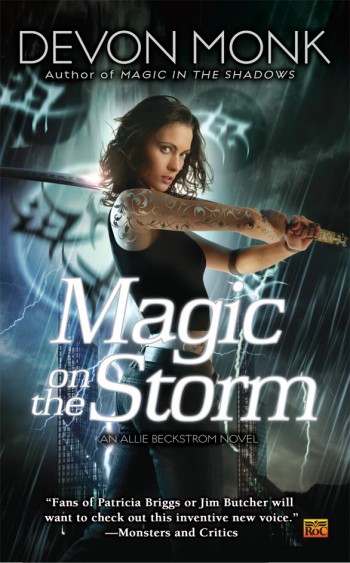 What's Next? A Cannon?
I live in a family of funny people. While they have been awesomely supportive when it comes to my career, that doesn't mean they don't occasionally comment on it.  Take the cover of my books, for example. On the cover of book one, Allie has no weapon. Book 2, we see she has a knife.  Book 3, the girl has a machete. And now book 4, Allie is wielding a katana.  These things all happen in the books (and are part of the advancing of her character and skills) but seeing her level-up with weapons on the covers prompted a lot of jokes and guesses in my family.  "What does she get next? A rifle? A machine gun? Oh–I know: rocket launcher! No, she should have a cannon on her shoulder."  Luckily, THEY don't sit in on the cover art meetings. 😉
As for the title, I knew from the first word I wrote that Magic on the Storm was the title I wanted for the book. And happily, my publisher agreed! The series cover art is by the fabulously talented Larry Rostant, whose art I LOVE and who brought Allie to life in such an amazing way for all nine books.
Shame's Achilles Heel
One word: Terric.  He's mentioned briefly in book 3, when Shame's mother, Maeve is telling him that the next time they do magic, they'd bring in someone to Ground him.  Shame, in a near-panic says, "Not Terric." When I wrote that scene, I had no idea who Terric was.  Why was Shame so worried?  Why had he broken his normal too-cool-for-school act to make sure Terric wasn't going to be considered for the job? Terric must be someone Shame felt uncomfortable around. But why?  So I did some character research, dug in Shame's past a little more, and found out just who and what Terric is to Shame. Once I knew all that, how could I not add him to the adventure? We meet Terric for the first time in Magic to the Storm.  While Shame may argue differently I, for one, am glad he is in the stories.
Hint Hint, Nudge Nudge
Magic on the Storm did some heavy lifting to set up plotting and foreshadowing for the big story arc. Since I know some people who are reading this blog haven't read the full series yet, I'll try to be discreet, but basically, we see some people who we think are good behaving suspiciously. We see Jingo Jingo tip his hand–or does he? We find a pink crystal tucked away in Allie's Dad's laboratory…and it is not only important, it's a hint for something big we discover in book 9. We see the cost of Shame's hatred of Jingo Jingo.  We discover just exactly what Shame means to Terric, and we see what appears to be the first time Allie and her father join together to get something done.
Use All the Words!
The writing of Magic on the Storm came far easier than books 2 and 3.  So much so, I don't really have many cut scenes. I don't know how other authors do this, but my cut scenes come from me writing along merrily, and suddenly realizing that a paragraph, scene, or chapter doesn't work with the advance and flow of the book and characters.  I used to just hit "delete", but then I started cutting the bits out and throwing them in a "bits and pieces" file in case I wanted to use parts of  it later. So excerpts, really, are failed scenes, or scenes I loved but that didn't work for the story (like the lavender handkerchief comment in book 2. I loved it, but it never made it into the book…even though there is a lavender handkerchief at the end of that book and only I knew why it being there was so bittersweet.)
Do I ever use the bits and pieces? Very rarely. But if I find myself thinking, "didn't I describe this building before?" or "There was something funny he said about ice cream that would fit in here" I do mine the cut scenes for workable words.
Cut scenes–Just a couple snippets today…
Shame's Lunch is always free…
"You have the dough," Shame said. "Crack open that trust fund and buy a poor guy a burger."
"Poor guy could get a job," I suggested.
Shame shook his head. "That's not going to happen, now is it?"
Animal, Vegetable, or Did you date her?…
"Did you date her?" I asked Zay.
"Who?"
"Mia Payne."
"That's what you're thinking about when magic is trying to burn you up?"
"No, it's what I'm thinking about now. Give. You know her. She looked worried. What's up with that. Did you spend time with Shame in juvie?"
"No, I've never been that stupid."
"So you dated her?"
"She's fifteen or more years older than me."
"And still gorgeous. I could see you going for an older woman. Maybe someone who likes to take control. Show a young boy how to please a lady." Wow, I meant it to come out teasingly, but saying it made me jealous. That was stupid.
He licked his bottom lip. I could tell he was trying not to smile. "We didn't date."
"Look me in the eyes and say that."
He looked me in the eyes. Was still trying not to smile. "We didn't date."
Fine. He was telling the truth.
"But you know her."
"Yes."
"Do I have to play twenty questions every time I ask about your past? Really?"
"Not every time."
AND NOW THE GIVEAWAYS!!
You can win one of these prizes! Leave a comment here on my blog and you're in the running.  You'll need to leave a comment on tomorrow's post if you want to be in the drawing for tomorrow's prizes.
Today's prizes:
1 – signed cover flat of MAGIC ON THE STORM – Note: I have misplaced this cover flat. If I can't find it, the winner will receive either a signed copy of Magic on the Storm, or a signed copy of any of my other books in the series.
1- signed ARC of MAGIC ON THE STORM (no pretty cover)
1- signed copy of MAGIC FOR A PRICE
I will mail internationally.  I will pull winners TOMORROW–Wednesday, November 14th. If any of the winners fail to contact me within a week's time, I will redraw names or hold a one-day post where all unclaimed prizes go to whoever asks for them first.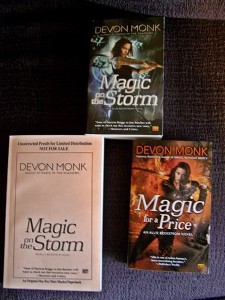 Leave a comment, ask a question, and your name will be in the hat for the drawing!