To celebrate the last book in the series, MAGIC FOR A PRICE, coming out November 6th, I am doing nine straight days of giveaways!  Each day I'll talk about one of the books in the series, will post cut scenes (if I have them), will answer questions (if you have them)  and will give away three prizes!
Day #1 winners can be found here.
Day #2 winners!
ARC of Magic in the Blood goes to…
Melliane, who said: wow it had to be terrible to have this phone call… It's a lot of work I'm sure of it. It's funny I don't even think about the cat in the second book and well It's true that the loss of memory was surprising but as you sad it was worth it!
Signed cover flat of Magic in the Blood goes to…
Ava, who said: I love magic and cannot wait to read your novels.
Signed Magic for a Price goes to…
JenniferK, who said: I love learning all these great things about your books. Thanks for the giveaway.
Winners, please contact me with your name and mailing address by clicking on the little envelope button on the upper right of this page.  Congrats!
Now for book #3…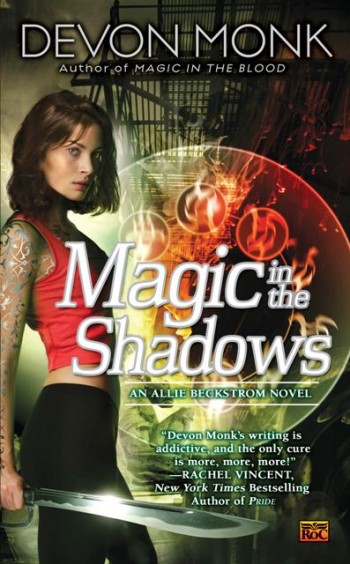 Title: In Which Young Devon Makes a Promise
We fantasy writers love the word Shadow.  Don't believe me?  Here is a random listing of novels with the word Shadow in the title: The Way of the Shadow, Shadow Gate, Shadow of Freedom, City of Light and Shadow, Shadow Rising, Shadow Bound, Shadow's Kiss, Shadow Kin, Shadow Magic, Shadow of a Dark Queen, Shadow Games, Luck in the Shadows, Raven's Shadow, Shadow's March. And the list goes on, my friends. I first noticed this shadowy trend back in the '90's while prowling bookstores. I made myself a promise right then and there. If I ever wrote and sold a book, I would never use Shadow in the title.  Too cliche!  Everyone has done it!  Not fresh enough! Then…I wrote this book. And the perfect title was Magic in the Shadows.  So, um… three cheers for Shadow.  It's an amazing word!  So fantasy-ish! So mysterious! It's not old or cliche!  It's Classic!
The Gargoyle
In this book, we meet Stone the gargoyle. Stone was a happy accident. After the rush of rewriting book 2, I was trying to not make the same mistakes with Magic in the Shadows. But Allie still didn't have many friends and I wanted her to have someone in her life who she could really trust and love and rely on no matter what. But the rules of my world pretty much guaranteed there wouldn't be any of the classic magical creatures: no vampires, werewolves, zombies. How could I have a gargoyle in the story and make his existence make sense? Easy, he's an Animate, a creature powered by magic, and a fierce and goofy one at that! His sweet and silly personality is my sister's fault. I told her I was going to put a gargoyle in the book, and she started laughing about all the trouble he could get into.  As soon as I wrote him in, I also realized exactly what Stone's part was in the bigger plot arc of the series.
The Smart Ass
Shamus Flynn.  What can I say about him? I knew he was Zayvion's best friend back when I wrote book 1, Magic to the Bone. Allie even spots him there at the end of Magic in the Blood as "a thin, pale kid in goth couture", which still makes me laugh because Shame's so much more than that.  He took Zayvion in as a friend when Zay was young and lost, and spent a lot of time cracking Zayvion's "good boy" image, getting him into trouble,  and making him laugh.  When Allie shows up, Shame immediately takes her in as a sister.  Though he'd never say it, he'd do everything in his power to keep her alive for Zay.   Shame is the only character I wrote an entire test scene for, just to see if I could get him on the page.  His name in that test scene? Egan Murphy!!  How horrible is that, lol?  I'm so glad I changed it to Shamus Flynn.  And since so many readers contacted me and asked if I would ever write a spin off book with Shame and Terric (see, contacting writers really can make a difference) I am happy to say I am currently writing his books, the Broken Magic series, which are the first spin offs I have ever written.
The Old Mentor
I probably should have mentioned Martin Pike yesterday when I was talking about Magic in the Blood.  If you've read the book, you how it ends for him. I like Pike, and in one version of the books, he was tortured by Trager, but…SPOILER – DON'T READ THE REST OF THIS PARAGRAPH IF YOU HAVEN'T READ BOOK 2, Magic in the Blood – …he was not killed by him. Yet.
Cut Scenes, or the way the world might have been in book #3…
Pike's ghost says good-bye…
Pike showed up at my door looking a lot less dead than when I'd last seen him.
"Allie." His voice was a hoarse whisper, a fragment of what it had once been. A bandage covered one eye, and loose black stitches tracked across his neck, like a creature out of the horror movies. But he stood straight and relaxed, as if he didn't feel a thing, both hands free in case he might need to pull a gun. Pike was former-military, and the toughest, oldest Hound I knew. He usually worked for the police here in Portland, tracking down cast spells back to the caster. But not too long ago he got himself mixed up in my business and the hell my dead father had put me, Pike, and several kidnapped girls through.
I could smell the pain on his sweat and exhale, acrid overtones of painkiller that wasn't coming close to sawing off the edge of his pain. He wasn't healed from the Proxy my dad had strung him up for yet. I guess even an old, tough Hound can be knocked on his ass when an undead magic user decides to torture him.
That had been several weeks ago.
A short lifetime wherein I'd pledged myself to the secret society of magic users. Magic users who had taught my father all his undead tricks, and were now, grudgingly going to teach me.
Did I mention how fun my life had been lately? Way fun.
I'd thought the hospital would have kept Pike for at least another month. Syphons spells to drain off the excess magic that had been Offloaded on him take time to work right. I was pretty sure he'd busted his way out without his doctor's permission.
"Hey, Pike," I said, trying to keep the regret out of my voice. I hated seeing him hurt because of me. But he was a Hound, and so was I. Each of us a loner, suspicious. We didn't pat each other on the back no matter how bad we got screwed over. "You want to come in? Coffee?"
He shook his head. I hadn't expected him to say yes. I didn't even know what he was doing here. Hounds did not linger around one another. It was too easy to cross scents. Too easy to be caught up in what another Hound was hunting. Too easy to be killed by magic users who didn't like being tracked down by people like us.
"I came by to tell you not to worry," Pike whispered, "and not to follow."
"That's cryptic," I said. "Want to tell me what you're talking about?" I leaned on my door, not wanting to open it any further, not wanting him to see who else was in my apartment with me.
Not that it mattered. Pike probably already smelled the sharp pine scents of my lover, Zayvion Jones. Which meant Pike knew I'd thrown my luck in with his kind–that is, if Pike knew that Zayvion's kind existed.
It got me thinking that this entire conversation would be a whole lot easier if we Hounds talked to each other more openly, maybe exchanged information or something.
Pike swallowed, the stitches rolling over his Adam's apple. It looked like that hurt.
"I told you I'd take care of things. And I will. Now I want you to promise me you'll stay here. And when the Hounds contact you, if they need you, even if they don't say they do, go."
"You know,"I said, "we're friends," I stumbled a little on the last word, but it was true. Of all the Hounds I knew, Pike and I had hit off a strange sort of I'll-watch-your-back if you watch mine kind of relationship. "But you are so not my boss. No one tells me what to do."
"They will. Just don't." He turned, taking all his cryptic craziness with him. I wondered if he was hitting the drugs a little too hard–that was another side effect of Hounding–the need to dull the pain of constantly using magic meant most Hounds traded days and years for booze and drugs.
"Allie?"
"Yeah, old man?"
He looked over his shoulder, his one pale blue eye burning in the shadows of my apartment hallway. "It was worth it."
And then he was walking away, down the corridor quieter and quicker than I would have thought him capable of, like a ghost drifting through this world.
I reluctantly shut the door and set the locks.
"Trouble?" Zay asked from the doorway to my bedroom.
I shook my head. All I wanted right now was some sleep.
I'd been spending too many nights walking the wet streets and cruising the rotten side of town lately. I couldn't sleep, couldn't hold still. There was a storm on the horizon. I could feel it coming. Coming for me.
If Zay felt it, he never said anything.
"Pike," I said as I crawled back into bed next to him, next to his heat and comforting solidness. "He wanted to tell me to not worry and not follow."
Zay's warm, wide palm slid down my arm, the around my waist, resting there. "Did he tell you anything that made sense?"
"No."
"I thought he was still strung up in ICU."
"Yeah," I said, settling myself closer to Zay, luxuriating in the comfortable fit of our bodies together–something that was becoming more familiar by the day. "I thought so too. Apparently they let him out so he could tell me things that don't make sense."
A man who made a choice: Greyson…
"I believe I need to take you home," Zay said.
I gave him a baby-you-don't-have-to-ask-me-twice look.
Then Zay's gaze flicked over toward the door.
I didn't hear it open, but there was enough of a wind tonight that the cool green and stone smells of the nearby river pushed into the room mixing with the odors of sweet cherries and alcohol. The door stayed open a little longer than normal.
And I could tell, from Zay's expression and the slow lowering of conversations in the room, that whoever had just walked in, wasn't expected.
Zay put on that cool Zen mask, the one he always shows the world. He was as closed off as a stone cliff, not even anger touching those gold eyes.
Shame, behind me swiveled his back toward me so he could see who had come in. I kept my wine glass and untangled my knees from Zay and turned too. Mostly because I preferred to take my bad news straight on.
I didn't recognize the man standing in the doorway. Dazed and dirty, he walked in automatically, his eyes unfocused, his weathered skin a little green except for the puffy redness around his eyes, and the dried blood smeared across his forehead, cheek and chin. He looked like he'd just stumbled out of a drunken bar brawl.
"Who is it?" I asked.
Shame spoke over the top of his beer. "Greyson. Closer. Well, was. Earned his way out." He took a drink. "And yes, that means he was set free of his duties with the Authority, and his memory was reworked."
Reworked. The casual sound of it sent shivers down my spine. This man had been Closed. Just like I'd almost been Closed.
He shuffled out into the room, then made a mostly-straight line toward the bar. He found an empty stool about six places to the right of Shame and sat.  The girl put a beer down in front of him.
Greyson wrapped his hand around the beer bottle but did not lift it, did not take a drink.
"What's the problem?" I asked quietly to Shame and Zay. "I think he needs a doctor."
Greyson had lifted the beer to his forehead and pressed the cold bottle there.
Neither Shame nor Zay answered me.
Conversations around us swelled again, like a living thing trying to regain its footing. But there was tension in the air. The feeling of a storm about to break. And with a room full of magic users, I didn't know where the first bolt of lightning would land.
"Poor bastard," Shame mumbled.
I turned and looked over at Zay, the Zen wall impenetrable. "Zay?"
He didn't answer, so I looked back at Greyson. He was still bleeding, the drip from his forehead down his fingers now, mixed with the condensation from his beer bottle, and sliding down his bare wrists to hit the counter top.
He turned his head, maybe finally sensing the scrutiny, and looked at me.
I have a rule: never look away when someone catches you staring at them. While it might not be a very smart rule, it is one I adopted when I was very young. I had used it to stand up to my father. A lot.
He mouthed one word: "please," and then closed his eyes as if even that small effort hurt.
"Don't," Shame warned. "And Zayvion, if you so much as raise your finger to scratch your nose, I will bludgeon you unconscious with my beer bottle, which would be a crying shame. You know how much I hate to waste perfectly good beer."
Zay didn't move, but there was an ocean of emotion roiling under that stone surface.
"You don't have to defend him, Zay," Shame said. "He isn't who he was any more. He knew what he was getting into. He made his choices."
Zay said nothing.
"Is there some rule about not getting a doctor? He looks like he's about to pass out."
Neither of them answered me, so I stood and walked over to Greyson.
"Fuck," Shame said.
If there was a signal between them, I didn't see it or feel it. But Zayvion and Shame got to their feet in unison, and followed me.
A man we never met: Victor's son…
Then we were at the door of the not-so-quaint little inn, and it was open, and Zay stepped outside into the cold air, and so did I, and Shame was behind us and I could finally breathe, although I was shaking and cold.
I wanted out of here. I wanted to go home.
"Leaving the party already?" a low voice asked.
One moment the three of us were standing on the porch beneath the utterly normal yellow light, and the next, Zayvion and Shame were moving, walking across the wide porch in unison toward a figure who leaned against a car the gravel parking lot.
Zayvion moved like he always moved, silent and graceful and deadly, a storm rising over a dark horizon. Shame was smoke and fire, and anger.
They stepped to the edge of the porch and stood, side by side in a way that told me they'd done this before.
The man, who I could not see around the wall of Zayvion and Shame, chuckled. "You two out looking for a fight? What, no world to save tonight? No fucking damsel in distress?"
"What are you doing here, Rafe?" Shame asked. "Wasn't us throwing you out once enough?"
"I'm here to meet my father. This is a public building. I can come and go as I wish. Besides, your mama likes it when real men come by for the show she puts on."
"Well then," Shame said in that light, deadly cold voice, "I'll be sure to let her know when any real men show up."
I moved to the side so I could see who they were talking to.
The man was tall, and looked taller from the cut of his long black duster. In the low light of the parking lot, he had a sort of military look to him–light short hair, and a face that was all chin and forehead.
Zay didn't move. But I could hear his words as clearly as if he'd spoken in my mind alone. "If you're a part of this, Rafe, we'll know."
Rafe shook his head and started walking toward the porch. "Why do you have to be such a moralistic asshole Zay? Drop the act, I know who you are. And I came here for a drink. Get out of my way."
Rafe walked up the steps to the porch and caught sight of me standing behind and to the side of Zayvion.
Okay. I knew this might be nothing more than male posturing. And even though I didn't usually get involved with other people's fights, because this was Zay's fight, and Shame's, somehow it felt like it was mine too.
I walked across the porch, my boot heels made a solid thunk across the old boards.
Rafe's expression switched between hunger and hatred. I had a feeling the boy didn't like me much. Well, the feeling was mutual.
"Evening," I said. "I don't believe we've met." I stepped up next to Zayvion. "My name's Allison Beckstrom."
A trail of memories that were not my own rolled through my mind.
This boy was trouble, had always been trouble. Expected to be handed his place in the Authority because his father was part of the Authority. Expected to be worshiped for his skills. But Zay, a ten-year-old street kid with no bloodline to magic they could trace, shows up out of nowhere and earns Victor's favor. Then became everything Rafe wished he could be.
Rafe tipped his head up and took the time to undress me with his eyes.
Classy.
"Nice," he said.
Was he just trying to piss me off?
Zay clenched his left hand into a fist.
Oh. Right. This wasn't about me. He was trying to piss off Zayvion.
AND NOW THE GIVEAWAYS!!
You can win one of these prizes! Leave a comment here on my blog and you're in the running.  You'll need to leave a comment on tomorrow's post if you want to be in the drawing for tomorrow's prizes.
Today's prizes:
1 – signed cover flat of MAGIC IN THE SHADOWS
1- signed ARC of MAGIC IN THE SHADOWS (no pretty cover)
1- signed copy of MAGIC FOR A PRICE
I will mail internationally.  I will pull winners TOMORROW–Tuesday, November 13th. If any of the winners fail to contact me within a week's time, I will redraw names or hold a one-day post where all unclaimed prizes go to whoever asks for them first.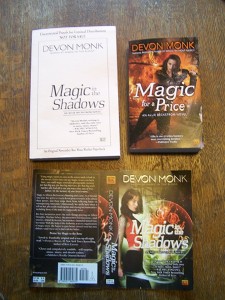 Leave a comment or a question to be in the running for today's prizes!