To celebrate the last book in the series, MAGIC FOR A PRICE, coming out November 6th, I am doing nine straight days of giveaways!  Each day I'll talk about one of the books in the series, will post cut scenes (if I have them), will answer questions (if you have them)  and will give away three prizes!
Day #1 Winners!
ARC of Magic to the Bone goes to…
Mia Rizzo,
who said: What a great way to celebrate, thanks for sharing! I can't wait to read more snippets.

Signed cover flat of Magic to the Bone goes to…
Elina Rinckens. who said: Its awesome that you chose to celebrate by sharing with your devoted fans! I really enjoyed how you brought Allies father back; it wasn't only unique(as all your books are), it also became very touching.
Signed Magic For A Price goes to…
Jessica,
who said: This series is truly amazing! One of my absolute favorites! The depth of the characters, both major and minor, are some of the most well developed in the genre.
Winners, please contact me with your name and mailing address by clicking on the little envelope button on the upper right of this page.  Congrats!
Now we move on to book #2 in the series…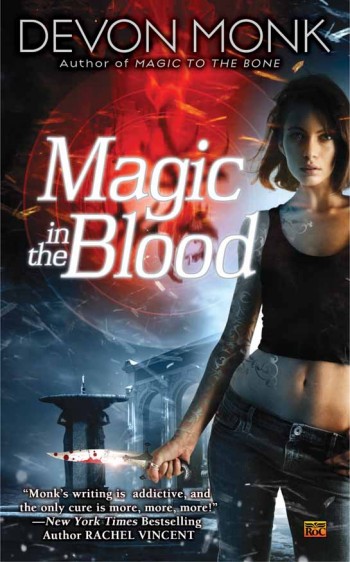 MAGIC IN THE BLOOD – book 2
Fun Facts:
Eureka! We've Found the Title Formula!
I wanted to structure the title to match the first book so it was obvious they belonged to the same series.  "Magic" would of course be the first word (as it is for every book in the series) but what should follow?  I was talking about it to a writer friend of mine, Nina Kiriki Hoffman. She suggested Magic in the Blood.  It was perfect!  I asked her how she so easily came up with the perfect title for the book when she hadn't even read it yet.  Her answer was along the lines of: "It's 'Magic' something, something, 'body part.'" THAT made me laugh! I tried to use the same formula for the rest of the books, sadly, "blood" was the last body part we used.
You Go On Without Me
This was touched on in the questions from day 1, so  I thought I'd mention the things people said bothered them enough in the first book that they couldn't get past it to the second book.  Mostly, it's just two things:
1. They were terrified the cat would die.  People contacted me repeatedly, begging to know if the kitty was killed. They refused to read any further in the book before they found out from me, personally, if the cat was harmed. I assume many people didn't email me and instead just put the book down during that intense scene, not knowing that they were safe in my authorial hands. I'm sort of on the record here so let me state clearly: I love animals. I love pets. Without giving anything away *cough-thecatlives-cough* things work out okay for all innocent creatures in my books.
2. They were angry/sad/horrified/betrayed/annoyed about how Magic To The Bone ends…specifically…SPOILER ALERT- DON'T READ THE REST OF THIS PARAGRAPH IF YOU HAVEN'T READ BOOK 1………that Allie loses her memories. This, however, is central to Allie's character, to who she is and what magic or perhaps other forces in her life have done to her. It is her struggle to build her life despite that very problem that makes her strong, and makes her friendships all the more valuable. I hope that those of you who made it to the ninth book feel that it was worth it, memory loss and all, and that by following Allie on her journey we were able to see her overcome great challenges and gain a stronger life than the one she began with in book 1.
The Phone Call of Doom
Now I'll say a little something about writing Magic in the Blood. This was (obviously) a sequel to book 1. It was also the most broken book of the entire series.  How do I know that?  Well, after my editor read it, she asked if we could talk on the phone.  During our conversation, she very gently and kindly broke the news that the book did not work.  At all.  Well, there were a few things that worked, but if we were to save the plot and advance the series, there would need to be a lot of changes.  Basically, it needed to be a new book.
These are the kinds of phone calls that keep writers awake at night. And while my editor was awesome and tossed around some ideas for the fix, I hung up realizing I'd have to scrap almost the entire book.  To put it in numbers, it was about 90,000 words.  I needed to scrap 70,000 words of it.  And in case any of you out there are wondering why I didn't just tell her no, this was my artistic baby/vision/whatever, and refuse to make changes,  it's because she was RIGHT. Absolutely, positively correct. Ignoring the truth of my failure wouldn't make me grow as a writer, wouldn't make my editor happy, and most importantly, wouldn't make my readers happy.
I didn't mind the challenge of rewriting an entire book almost from scratch, but due to circumstances outside of both my editor's and my own control, if we were to get this book to press on time, I had one month to do it.
One month to write a book.  Remember on yesterday's post when I said I wrote Magic to the Bone in 2-3 months and it was the fastest I'd ever written a book in my life?
Cue the panic.  This particular challenge revealed the strength of my first readers, Dean Woods, and Dejsha Knight, who immediately sprang into action and listened to my ideas for changing the book and offered up opinions. My writer-friend, Dianna Rodgers, was also invaluable in this instance. This, people, is why I thank my first readers in every single acknowledgment.  They brainstormed with me, read chapters as I finished them, helped me spot plot holes, gave me amazing feedback, hugged me when I cried, handed me coffee, and cheered me on until they were hoarse.
And in exactly one month, Magic in the Blood was reborn into the book it is now.
The Story That Almost Was
What were some of the big changes?
●    Half the book was narrated through Chase's point of view, like Cody narrated half of book 1. She was a very different character than the Chase you have all read. She was still Zay's ex-girlfriend, but certainly a more active antagonist. It didn't work. At all.
●    Jingo Jingo was also far more active in this book, creeping about and kidnapping people. That didn't work either.
●    Davy Silvers was killed early on in the book, fueling Tomi's hatred of Allie. I didn't like that he was dead and I was happy I got to bring him back as the awesome character he is now.
●    Detective Paul Stotts was a possible love interest for Allie. Why did that change?  Because of this conversation: My editor: "Will she ever really fall in love with him?" Me: "No." My editor: "Then stop that." 🙂
Cut Scenes, I have 70,000 words of them! (But I'll spare you the pain)
Allie Sees Her Dead Father On the Street….
"Did you see that?"
Zayvion frowned.
"Back there, on the street.  On the curb.  Did you see him?"
"Allie, keep your voice down.  Tell me quietly.  See who?"
"My…the man."
Zay raised his eyebrows, waiting.
"In the suit.  The man.  He wasn't wearing a hat.  No coat.  Tall, like me.  Did you see him?"
"I was pretty busy pulling you out of oncoming traffic.  What did he look like?"     The waitress stopped by with Zay's pot of tea. "Be right back with the espresso."  She scurried off.
"He had gray hair," I blurted out.  "And a black suit.  He wasn't wearing a coat.  You saw him, right?"  I leaned forward and lowered my voice.  "Zay, it was my dad.  I saw my dad."
Zay held very still, his gaze locked with mine.  Black shifted in those eyes, fractures filling wider, taking away all color, more black than I'd ever seen before.  Some part of my mind noted it with fear.  There was something bad about Zay's black eyes.  Something I could not figure out with my current one and a half functioning brain cells.
Zay calmly lifted the teapot and poured hot tea into the clean white cup.  "Huh."
That was it?  That was all?  I wanted to grab him by the neck and squeeze a reaction out of him."I'm not crazy.  It was my dad.  I'm sure of it.  He's not dead, Zay, he was alive, right there, right on the sidewalk, a minute ago."
"Right in the middle of a busy city street in full daylight, in the middle of the rain, without a coat or hat."  Zay looked up from pouring the tea, his gaze too black and too calm.  "Does that really sound like something your father would do?"
My father had been–or maybe still was–a careful man.  He wouldn't go to the bathroom without assuring all the proper procedures had been followed.  In all my life I had never seen him go out into inclement weather without a coat.
"I know what I saw."
Zayvion lifted the cup, took a drink and I had to wonder what sort of events in his life lead up to him, a man in a second-hand ski coat who looked like he didn't have a penny to his name, who killed people for a living, looking so comfortable holding such a delicate china cup. He put the cup back down on the saucer and did not look at me for awhile.  Instead he just stared into the cup.  His breathing had changed a little, slowed, as if he were working really hard at something, running really hard even though he was just sitting. The muscle at the back of his jaw flexed.  He might look composed, but there was an ocean of emotion going on under that cool surface.
When he finally looked back up at me, it was all about the calm, the cool, and the collected.
Except for the shadows in his eyes.
Fine.  I could be calm too.  Especially as soon as I stopped shaking.  And my thoughts stopped whirring in the blender of my mind.  And my hands stopped trembling.  I folded my gloved hands together, well, clenched might be a better word, and leaned my elbows on the table, holding myself up.
"All right," Zay began, "let's say you saw him.  No coat?"
"No coat.  No hat, no umbrella."
"Did he look cold?"
"No."
"Inconvenienced by the rain and wind?"
"No."
"Wet?"
"No."
"Did you smell him?"
"What?"
He just stared at me.  I knew what he was asking.  I was a Hound.  I had an overdeveloped sense of smell.  And ever since the coma thing, I was even more acutely aware of odors and signature scents.
My dad always smelled of wintergreen and the hint of leather.  I couldn't remember smelling that, but there had been so many people on the street, so many smells.
"I-I don't know."  Which really meant no.
Zay turned the teacup in slow circles between his fingertips without looking at it.  "I'm listening, Allie.  Convince me I should believe you."
"Look at my face," I said.  "I saw my father on the street."
"Allie–"
"He wasn't dressed for bad weather, I'll give you that.  He was in a black suit with a lavender handkerchief in his pocket–"
"What?"
"Lavender handkerchief in the pocket.  I didn't get a good look at his shoes, but I think they were shiny and black–to go with the suit.  Why are you staring at me like that?"
"Did you father often wear lavender handkerchiefs?"
"You're talking to the woman who avoided him for seven years.  How should I know?"
He silently watched me.  I silently scowled at him.
We made a great couple.  This had to be the best first date ever.
I was the first to break the impasse.  "You're the one who worked for him, Jones.  You tell me.  Did he wear lavender hankies?
"No," he said.  "He didn't like the color.  But Violet did."
"And this is important because?"
"Because that was the color of handkerchief that was in his pocket–for Violet and at his request–when he was buried.  It was in the will.  It made her cry."
A Short Scene With Chase and Zay…
"Now, Allie.  We need to go before Chase–"
"Before Chase what?" a woman's voice asked from somewhere closer to the sidewalk.  "Before I interrupt your little date?"
I was still crouched in the middle of the street.  The spell of Sight was still strong, and through it I watched as the woman, Chase, stepped off the sidewalk and strolled over to the other side of Zay's car.  Unlike Zay, who still looked like a man of silver glyphs and black flame, Chase looked fairly normal to me.  She had hard edges to her face and a forced perfection that showed she had gone under at least one surgeon's knife.  Her yellow hair was pulled back in a severe pony tail
"Before you decide this is any of your business," Zay said.  The ebony flames flickered with tongues of red.
"Oh, but it is, isn't it?  My, she's a pretty thing.  A little on the thin side for your tastes, isn't she, Zayvion?  Still, she has that dirty angel look you like."
"Chase," Zay said with enough heat, I would have taken a step back if I were her.
Chase pulled out a cigarette and lit it, even in the rain.
"Poor thing looks completely overwhelmed," she said around the cigarette in her mouth.  "She's certainly pulling more magic than any civilian is coded for.  This settles it.  No one would argue that she's a danger."
She took a step toward me.
Zay took a step toward her.
AND NOW THE GIVEAWAYS!!
You can win one of these prizes! Leave a comment here on my blog and you're in the running.  You'll need to leave a comment on tomorrow's post if you want to be in the drawing for tomorrow's prizes.
Today's prizes:
1 – signed cover flat of MAGIC IN THE BLOOD
1- signed ARC of MAGIC IN THE BLOOD (no pretty cover)
1- signed copy of MAGIC FOR A PRICE
I will mail internationally.  I will pull winners TOMORROW–Monday, November 12th. If any of the winners fail to contact me within a week's time, I will redraw names or hold a one-day post where all unclaimed prizes go to whoever asks for them first.