To celebrate the last book in the series, MAGIC FOR A PRICE, coming out November 6th, I am doing nine straight days of giveaways!  Each day I'll talk about one of the books in the series, will post cut scenes (if I have them), will answer questions (if you have them)  and will give away three prizes!
We begin with book #1 in the series…..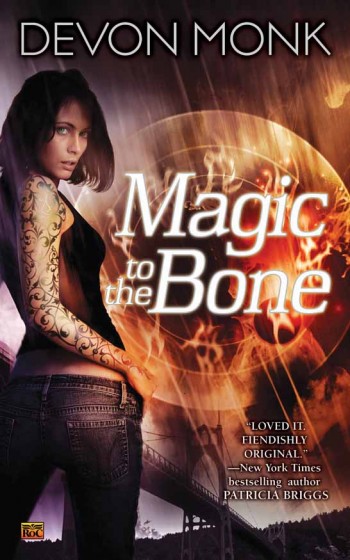 MAGIC TO THE BONE – book 1
Fun Facts:
The Title, Dear God, the Title
My original title was DEAD DOWN 13th STREET, which is really bad, lol!
Asked to suggest a better title, I came up with A LICK OF MAGIC
That was refused because it was too close to A LICK OF FROST, by Laurell K. Hamilton which was scheduled to be released a month before my book came out.
So I filled pages and pages and pages with title ideas. Finally, my amazing editor came up with MAGIC TO THE BONE, which set the tone for the rest of the series.
What About The People
Allie's name was chosen because I wanted her to have an "A" first name and a "B" last name. "Beckstrom" is Swedish for "back stream" which I loved because magic flows through the world like water, or "back streams" and pools in hidden wells.  The "strom" is also a nod toward "storm", which defines magic (also used like electricity) and speaks to Allie's life and her father's life in many ways.
Zayvion's name was chosen because I'd seen that spelling of the name once and loved it.
This is the only book in the series that has a second point of view character narrating part of the book: Cody Miller. Even though Cody is a huge part of the first book and I knew what his fate would be across the series, I wasn't sure how much of his story I could get on the page after this book since I couldn't use him as a second point-of-view character again. So I sprinkled his story in here and there through the remaining books, until it added up to the important part he played in book nine.
Yes, that's Jingo Jingo in the Cody scenes and on the street when Allie is looking out Mama's window.  I knew he'd play a big part in the book too.  Jingo Jingo is a character from a fairytale short story I wrote (which has never seen the light of day).
The Writing of the Thing
MAGIC TO THE BONE was originally a short story.  I thought it had the potential for a novel, but I was working on another novel project (which has never seen the light of day either. Hm…I'm seeing a pattern here).  In the end, I wrote MAGIC TO THE BONE in a rush to hit a tight deadline for submission. I think I wrote it in two-three months which was, at the time, the fastest I'd ever written a book in my life.
I intended for Allie's dad, Daniel Beckstrom, to stay dead. Really and truly dead.  But one comment in the revision notes from my editor along the lines of "too bad he died. He was a great character. I would have liked to see more of their relationship" made me change my mind.  It made me think about what it would be like to see more of their relationship. And THAT opened up so many delightful possibilities, I knew what I had to do.  So if you love/hate Daniel Beckstrom and his part in Allie's story, you can thank/blame my awesome editor for that!
Cut Scenes (more like Snippets, really):
Opening scene when Mama calls:
The morning chill made my scars ache today.  My apartment felt emptier now that the autumn rains had come to stay.  And yeah, I was lonely.  My job made catching bad men easy and keeping good ones damned impossible.  Nobody wanted to hook up with a Hound.
"Allie?" Mama said again.
"Yes,"  I said.  "Is there a problem?"
"You come now.  Right now.  You'll fix this.  Fix for us."
***
I put on a pair of jeans and tank top and shrugged on a corduroy jacket in case I needed to look nice enough to deal with the corporates.  Nine times out of nine, hounding sent me sniffing down lines of magic that middle-fingered some branch of corporate.  Big boys in glass towers knuckled down on the little people when they could–mostly used them as targets to divert their own cost of magic usage.  Sort of like human sponges to soak up industrial waste: who cared if a few bums died young?  It kept the poor poor, the addicts addicted, and the corporates clean of any wrong doings, unless they got caught.  Work for hire magic sniffers–Hounds like me–did a lot of the catching.
Which was why I was pretty happy I'd made it to my twenty fifth birthday so far.
I brushed my teeth, rubbed at my recent short hair cut, and hoped it would pass for sexy.  I slipped into my boots and locked my apartment door behind me.
Mama owed me breakfast.  I hoped she had something in her kitchen more nutritious than whiskey.
Later…With Zayvion:
…and looked him up and down again.  His stomach muscles tightened, he was breathing fast, and he was most certainly thinking about sex now.  I reveled in the power of my body to do what I'd been unable to–break through that calm exterior of his and get to the real man inside.  Even though it was a little cold in the room, I stood and  pushed my sweat pants down over my stomach, paused to listen to Zay breathe harder before pulling them off my hips, paused again, then pushed them down my thighs.  Zay sucked in a hard breath while I bent forward and tugged my legs out of the pants.   I expected him to tackle me, hoped he would tackle me, but not Zayvion.  No, not Mister Calm.  I straightened and wrapped my arms around my rib cage.  It was cold enough in the room a chill raced through me and my nipples tightened.  I was freezing.  I was too hot.  I wanted him against me.  Inside me.  Before I froze to death, fell apart, or had a chance to think about this for very long.
"This isn't a strip show, Jones," I said.  "Get over here."
AND NOW THE GIVEAWAYS!!
You can win one of these prizes! Leave a comment here on my blog and you're in the running.  You'll need to leave a comment on tomorrow's post if you want to be in the drawing for tomorrow's prizes.
Today's prizes:
1 – signed cover flat of MAGIC TO THE BONE
1- signed ARC of MAGIC TO THE BONE (note, it has a pretty cover!)
1- signed copy of MAGIC FOR A PRICE
I will mail internationally.  I will pull winners TOMORROW–Sunday, November 11th. If any of the winners fail to contact me within a week's time, I will redraw names or hold a one-day post where all unclaimed prizes go to whoever asks for them first.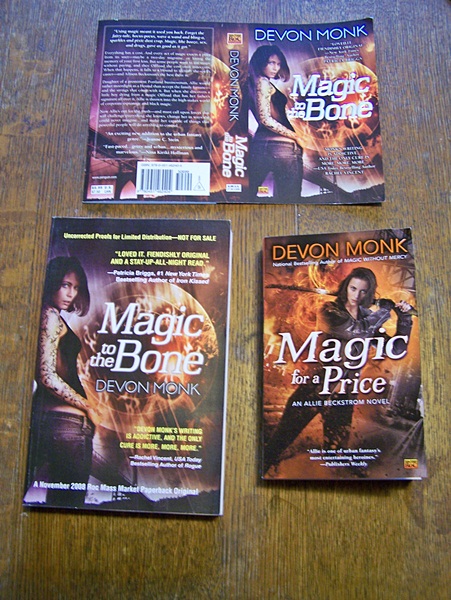 Leave a comment, or ask a question to be in the running to win!