I'll continue with the Nine Days of Giveaway later today, but I had to interrupt our fun to share this with you.
I can officially reveal the cover for the third book in my steampunk Age of Steam series!  Here it is….
COLD COPPER: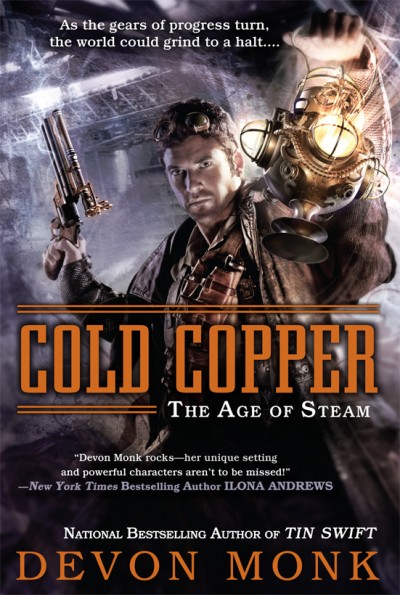 What do you think? I LOVE it!!  The artist is Cliff Nielsen, and he's done the first two books in the series too.  You can see some of his other work here, and follow him on Facebook here.
Here are the first two books in the Age of Steam series, DEAD IRON and TIN SWIFT.  I am currently revising COLD COPPER, which continues the steampunk western adventures of Cedar Hunt, Captain Hink, Mae Lindsen, Rose Small and the Madder brothers as they race to recover the dangerous weapon that can destroy America before it falls into the wrong hands. Machines, magic, monsters and mayhem–this book's got it all.  🙂
COLD COPPER will be out  July 2013.