You know what I should not do? Blog before coffee.  I have started this blog eight times, and erased it each time. So this time I'm just going to ramble about stuff. Apologies in advance.
Ramble #1: I am currently working on COLD COPPER, book 3 in the Age of Steam steampunk series.  Deadline is creeping my way on tiny brittle feet, fangs bared. Each of my moments are marked by the tick, tick, tick of its approach.  Happily, the draft is almost done, and I can manage very quick revisions when I'm focused (or you know, panicked) so I should be able to meet that deadline at the door and sweep it to the curb.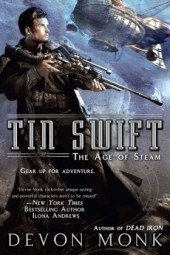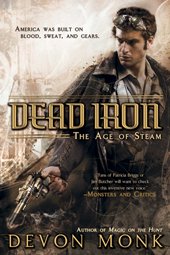 Ramble #2: I got to see the cover art for COLD COPPER.  It is AMAZING!!  It's my favorite cover of the series so far, and I LOVE all my covers in this series. However….I can't share it with you yet.  I promise I will as soon as I get the ok.  In the meantime, you could totally check out Cliff Nielsen, the fabulously talented artist whose vision brings Cedar Hunt to life on every awesome cover of the series, here on Facebook if you want, or on this web page.
Ramble #3: You know what book I'm writing next?  Shame Flynn's book. In case you haven't read my Allie Beckstrom urban fantasy series, Shamus Flynn shows up in book 3, I think, MAGIC IN THE SHADOWS, though he's actually in book 1, just the briefest of mentions, toward the end of the book.  He's Zayvion Jones' best friend from childhood, and since Zayvion is Allie's fella, well…Shame naturally ended up in their lives. And since Shame is…well, Shame, he is also one of the major side characters.  And since readers liked him so well, (and I did too) guess who got a spin-off series?  Shame.  And I can not WAIT to get to these books because I know how fun they're going to be!
Ramble #4: Things about the Shame books I know so far:
They're called the "Breaker" series
Shame and Terric will be the main characters
Other people from the Allie Beckstrom books will also appear in the books
They will be told through Shame's point of view
There are two books in the series (so far)
First book will probably come out November 2013-ish, so one year after the last Allie Beckstrom book comes out.
Speaking of the last Allie Beckstrom book…..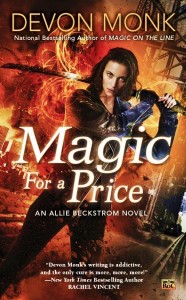 Ramble #5: MAGIC FOR A PRICE will be in stores November 6th!  I'm going to post a snippet from the book this Friday, and will do so each Friday until release day.  I'll also get an excerpt up (under the Books menu tab) today….if I get time. Otherwise, that will happen Very Soon too.
What other free stuff am I going to do?  Well, apparently an author named Shiloh Walker has been sneaking around my house (wink, wink) and she STOLE a copy of MAGIC FOR A PRICE and will be giving it away.  You can win a signed copy of MAGIC FOR A PRICE (and other cool books) from her….here.
I will also be giving away some copies of MAGIC FOR A PRICE when I get them, so stay tuned.  Oh, and for those of you who might have missed the short story HANG FIRE, set between books 1, and 2 of the steampunk series (DEAD IRON and TIN SWIFT) I will get that up on my blog for free Real Soon Now.
There. Rambles done.  Now it's time to drink coffee, pay bills, and write before the deadlines eat me.