My sister is awesome and has canned lots of fruits and veggies this year. In exchange for letting her use my extra jars, she's given me some of the food she's putting up for winter.  My empty canning jars weren't doing anything sitting in the basement, so I am totally making out on this deal. 🙂
But I wanted to give her something in return.  Something silly and whimsical to brighten up her pantry and make her smile. Maybe something knitted. Since I'm on a very tight deadline to turn in my latest book, COLD COPPER, I only have little chunks of free time available to me.
I needed a small project that I could dream up quick, and get on and off the needles fast.
So I knit her a jar hat.
The Button Witch Hat: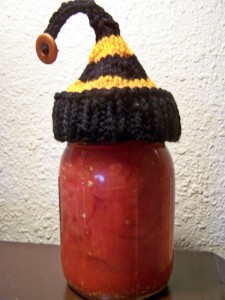 She liked that one so much, I made her a couple more:
The Snow Beanie: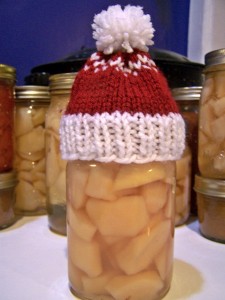 The Viking Helmet: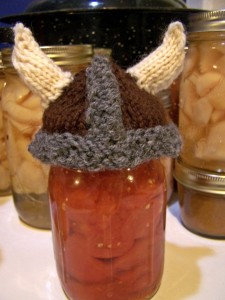 Because, hey, everyone needs a viking helmet.
And here's an action shot of the jar hats rocking the pantry whimsey.  Rock on, jar hats. Rock on.