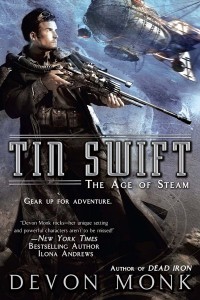 The TIN SWIFT blog tour is done, although there are a couple giveaways still open if you're hoping to score a copy of TIN SWIFT, a magnet, and the steampunk airship bookmark. Check the list here for those giveaways, and also for the free serialized story, HANG FIRE.
Last week was pretty busy. I was interviewed and photographed for a local magazine: Willamette Woman. Both the photographer and reporter were terrifically nice, and hopefully, we'll see that article in September.
I'm happy to say there are some shiny new changes over on the Deadline Dames. We're currently updating our web design and are in the fine hands of the amazingly talented Ilona Andrews! Yes, she writes awesome books, and designs kick ass web pages! As a matter of fact, she designed my web page too! If you head over to the Deadline Dames and leave a comment, you'll be in the running for a copy of Keri Arthur's novel: BENEATH A RISING MOON.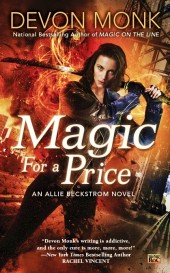 Today, I turned in the proofed copy of MAGIC FOR A PRICE.  This is the last book in the Allie Beckstrom series, and brings Allie's story to a close. I had an amazingly good time writing these books, and learned so much.  It is a strange feeling to be ending the series, and after I've parsed it a bit more, I'll be sure to share my experience here.
But here's something fun to look forward to.  I announced over on A Once and Future Podcast that I have a new series coming out.  It is a spin-off series from the Allie Beckstrom novels.
Guess who the main characters are?
Naw, you don't have to guess, I'll tell you.
Are you ready?
Shame and Terric.
Yep. Shame gets his own books, God help us all. 😉