TIN SWIFT Blog Tour
Today, you can find the last chapter of HANG FIRE, the short story set between DEAD IRON and  TIN SWIFT  in my Age of Steam series ready to read at Bibliophilic Book Blog!  Just click on the link below to read the final installment, and don't forget, if you leave a comment there you'll be in the running to win a copy of TIN SWIFT, a handmade (by me) steampunk airship bookmark, and a cool TIN SWIFT magnet.  A winner will be chosen at each stop, so go ahead and leave a comment at each blog!
If you've been waiting for the full story to be posted before you start reading it, then today's your day! Scroll down the list to Chapter One to be taken to the first blog, where there will be a link to the next blog at the end of the post. If for any reason the links don't work, you can use this list here, or the list posted on the TIN SWIFT blog tour road map here.
Chapter Twenty: Bibliophilic Book Blog
Chapter Nineteen: Bookshelf Bombshells – (also Rebecca Kovar's review of Tin Swift here)
Chapter Eighteen: That's What I'm Talking About – (also: B's review of Tin Swift here)
Chapter Seventeen: Dark Faerie Tales
Chapter Sixteen: My Life In Not So Many Words
Chapter Fifteen: Larissa's Bookish Life
Chapter Fourteen: Literal Addiction
Chapter Thirteen: Magical Urban Fantasy
Chapter Twelve: My Bookish Ways
Chapter Eleven: Deadline Dames
Chapter Eight: All Things Urban Fantasy
Chapter Six: Fantasy Literature (extra prize: steampunk bracer by Roger Brown)
Chapter Five: A Book Obsession
Chapter Three: Tote Bag 'n' Blogs
Chapter One: Candace's Book Blog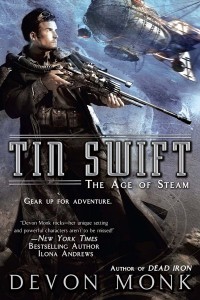 ***********
Other Excellent Things
Blog Tours.
Since this is my first blog tour ever, I guess I don't really have much to compare it to, but I had a blast! Every blogger was terrific to work with, polite, fun, and did a great job featuring the chapter of HANG FIRE, running the giveaways (many of which are still going, so do check them out!) and responding to readers who commented.
It was a wonderful way to keep my mind off of all the usual release-day (and month) jitters. Since I wanted to keep a running link list here on my blog, I can officially say that I've blogged consistently over the last four weeks, and it's been fun!
I've had so many requests for those steampunk "Tin Swift" airship bookmarks that I am going to post a tutorial on how you (or a crafty friend) can make your own, and will post it in my Knitting section, which I'll rename:  Knitting and Crafts. 🙂
But mostly, I want to thank you, readers, for coming along for this ride, for trying out a chapter or two, for checking out a few new blogs, and for being your awesome book-loving self.
Thank you!