TIN SWIFT Blog Tour
Chapter 19 of HANG FIRE, the prequel short story to TIN SWIFT  is live over on Bookshelf Bombshells!  You can click on the link below to get your reading on, and don't forget, if you leave a comment there you'll be in the running to win a copy of TIN SWIFT, a handmade (by me) steampunk airship bookmark, and a cool TIN SWIFT magnet.  A winner will be chosen at each stop, so go ahead and leave a comment at each blog!
Chapter Nineteen: Bookshelf Bombshells – (also Rebecca Kovar's review of Tin Swift here)
Chapter Eighteen: That's What I'm Talking About – (also: B's review of Tin Swift here)
Chapter Seventeen: Dark Faerie Tales
Chapter Sixteen: My Life In Not So Many Words
Chapter Fifteen: Larissa's Bookish Life
Chapter Fourteen: Literal Addiction
Chapter Thirteen: Magical Urban Fantasy
Chapter Twelve: My Bookish Ways
Chapter Eleven: Deadline Dames
Chapter Eight: All Things Urban Fantasy
Chapter Six: Fantasy Literature (extra prize: steampunk bracer by Roger Brown)
Chapter Five: A Book Obsession
Chapter Three: Tote Bag 'n' Blogs
Chapter One: Candace's Book Blog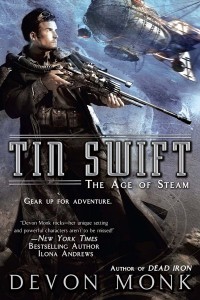 ***********
Other Excellent Things
Bookstores, Bloggers, and other Excellent People.
Last night, I had the great pleasure to hang out, chat with terrific people, and sign some books over at The Reader's Guide in West Salem, Oregon.  The Reader's Guide is one of several new and used bookstores in my hometown, and the staff there are wonderful.  If you're in Salem and looking for a signed copy of TIN SWIFT, you can certainly find one there!
Among the brave souls who came out in the heat (yes, even Oregon gets hot in the summer) were a couple local bloggers. I met Zia from MY LIFE IN NOT SO MANY WORDS, who was awesome to meet!  (She is hosting chapter 16 of the Tin Swift blog tour. You can check out that stop & win prizes here)
I also had a chance to catch up with Shelley from TSK, TSK, What to Read? who hung out and chatted with me for at least a half hour. Shelley was simply wonderful to spend time with, and she and Kathyrn do a great job reviewing books they love on their blog.  They posted a quick interview with me, and are even giving away a free signed copy of DEAD IRON, book 1 in the Age of Steam series. You can click here to check out that giveaway.
Several readers came by, and I think a couple of people were kind enough to pick up one or the other of my series to give them a try.
All in all, it was a wonderful evening spent surrounded by books, and book lovers.  Sometimes my job totally rocks!