TIN SWIFT Blog Tour
Today's chapter of HANG FIRE, the serial short story set between DEAD IRON and TIN SWIFT is live on Dark Faerie Tales!  Click on chapter seventeen's   link below to be taken to the story.  If you leave a comment there, you'll be in the running to win a copy of TIN SWIFT , a handmade (by me) steampunk airship bookmark, and a cool TIN SWIFT magnet.   A winner will be chosen at each stop, so go ahead and leave a comment at each blog!
Chapter Seventeen: Dark Faerie Tales
Chapter Sixteen: My Life In Not So Many Words
Chapter Fifteen: Larissa's Bookish Life
Chapter Fourteen: Literal Addiction
Chapter Thirteen: Magical Urban Fantasy
Chapter Twelve: My Bookish Ways
Chapter Eleven: Deadline Dames
Chapter Eight: All Things Urban Fantasy
Chapter Six: Fantasy Literature (extra prize: steampunk bracer by Roger Brown)
Chapter Five: A Book Obsession
Chapter Three: Tote Bag 'n' Blogs
Chapter One: Candace's Book Blog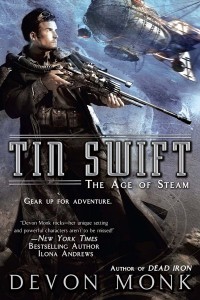 ***********
Other Excellent Things
Shopping.
I am (perhaps) one of those weird people who doesn't like shopping. If there is a necessary thing I need (say, a box fan to cool the house) I don't mind going out and picking one up.  While I'm in the store, I might even pause to look at something that catches my eye on the way to the box fans. But I have never been the kind of person who plans her free time around the chance to stroll stores, malls, and shops for hours at a time, just to see what I might want to buy.
Trying on clothes, even the most basic, is a chore I put off until my clothing items are hanging by a thread.  I totally understand that shopping is a relaxing and fun pastime for lots and lots of people.  But it isn't for me.*
This non-shopping habit of mine means I have a fairly sparse summer wardrobe. We've finally hit our warm temperatures here in the northwest, and my spring, autumn, and winter sweater-and-jeans ensemble just ain't cutting it. So the other day, I went shopping to find some cooler clothes.
After trying on fifty or seventy clothing items, I scored three t-shirts and a skirt I liked.  (pitiful, I know) But while I was trudging between the racks and the fitting room, I saw this little chuckle: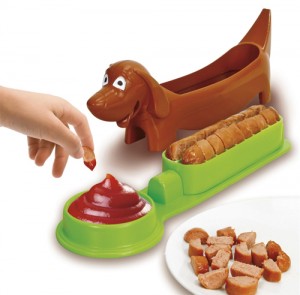 It is a hot dog slicer with a doggy dish for ketchup!  No, I didn't buy it, mostly because it would be useless in my household, and also because it's one of those "convenience" items that looks like it might be more hassle than it's worth.
Even though it's cute, I left the little plastic wiener slicer behind, picked up my four hard-won summer clothing items, and strolled over to the other side of the store so I could buy, (you guessed it)….a box fan to cool the house.
  *the exception is bookstores. I can spend hours there.