TIN SWIFT Blog Tour
Chapter 16 of HANG FIRE, the serial short story set between DEAD IRON and TIN SWIFT is ready for you to read today over on My Life In Not So Many Words.  Click on the link below to be taken to the story.  If you leave a comment there, you'll be in the running to win a copy of TIN SWIFT and other fun steampunk prizes.  A winner will be chosen at each stop, so feel free to leave a comment at each blog!
Chapter Sixteen: My Life In Not So Many Words
Chapter Fifteen: Larissa's Bookish Life
Chapter Fourteen: Literal Addiction
Chapter Thirteen: Magical Urban Fantasy
Chapter Twelve: My Bookish Ways
Chapter Eleven: Deadline Dames
Chapter Eight: All Things Urban Fantasy
Chapter Six: Fantasy Literature (extra prize: steampunk bracer by Roger Brown)
Chapter Five: A Book Obsession
Chapter Three: Tote Bag 'n' Blogs
Chapter One: Candace's Book Blog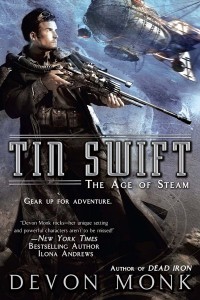 ***********
Other Excellent Things
A starred review in Publishers Weekly!
TIN SWIFT has received a starred review in Publishers Weekly today!
If you want to see the whole review, click here.
The review begins with this line: "Monk's enthralling second Age of Steam American steampunk adventure (after Dead Iron) brings back Cedar Hunt, a werewolf who can sense the Strange, creatures of magic and machine that seek to harm the mortal world"
And it ends with: "Action and romance combine with a deft precision that will keep readers turning pages–and anxiously awaiting the next volume."
Whoo-hoo!