TIN SWIFT Blog Tour
Here we are at the end of week #3 of the TIN SWIFT blog tour!  Only one week left!
You can find chapter #14 and an interview with me over on Literal Addiction today.  Just follow the link below to read the next installment of TIN SWIFT's  prequel short story, HANG FIRE and if you leave a comment there, you'll be in the running to win a copy of TIN SWIFT and other fun steampunk prizes.  A winner will be chosen at each stop, so feel free to leave a comment at each blog!
Chapter Fourteen: Literal Addiction
Chapter Thirteen: Magical Urban Fantasy
Chapter Twelve: My Bookish Ways
Chapter Eleven: Deadline Dames
Chapter Eight: All Things Urban Fantasy
Chapter Six: Fantasy Literature (extra prize: steampunk bracer by Roger Brown)
Chapter Five: A Book Obsession
Chapter Three: Tote Bag 'n' Blogs
Chapter One: Candace's Book Blog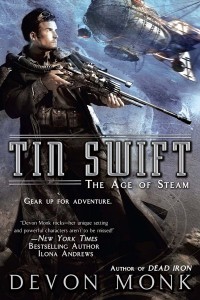 ***********
Other Excellent Things
Readers.
TIN SWIFT came out this week, and already I've heard from people who have read it and loved it!  Thank you, readers.  You have no idea how bright you make my world.