TIN SWIFT Blog Tour
Chapter #11 is live today on the Deadline Dames! Click on the link below to read the next exciting installment of TIN SWIFT's  prequel short story, HANG FIRE. You can also win a copy of TIN SWIFT and other fun steampunk goodies.  A winner will be chosen at each stop, so feel free to leave a comment at each blog!
Chapter Eleven: Deadline Dames
Chapter Eight: All Things Urban Fantasy
Chapter Six: Fantasy Literature (extra prize: steampunk bracer by Roger Brown)
Chapter Five: A Book Obsession
Chapter Three: Tote Bag 'n' Blogs
Chapter One: Candace's Book Blog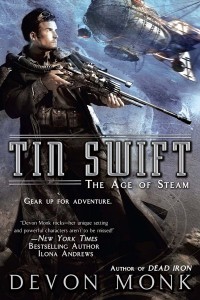 ***********
Other Excellent Things
Today is the day!  TIN SWIFT is officially out in stores and available online. Thank you to all the readers, bloggers, writers, reviewers, and steampunk enthusiasts out there who have chatted up the book and series. I feel very lucky to have the chance to share this world and these people with you!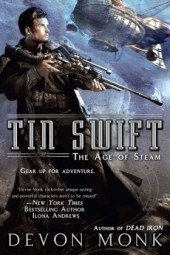 Readers–If you haven't had a chance to read DEAD IRON, or maybe read it several months ago and aren't sure if you want to jump right in on TIN SWIFT without a refresher–I've got you covered.  Today over on RT BOOK REVIEWS I sum up the events in DEAD IRON so that you can pick up TIN SWIFT without a hitch.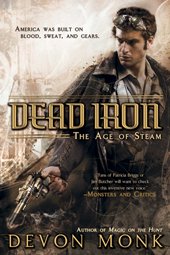 Not only is the next chapter in the blog tour posted on the Deadline Dames today, we also have excerpts from Dani Worth's new steamy novella AFTER THE CRUX, and a peek at Jocelynn Drake's new prequel story, THE ASYLUM INTERVIEW BRONX.  Hope you'll check us out!