TIN SWIFT Blog Tour
Here we are with chapter #9 ready to read!  Click on the link below to be taken to Rabid Reads where you can read TIN SWIFT's  prequel short story, HANG FIRE. You can also win a copy of TIN SWIFT and other fun steampunk goodies.  A winner will be chosen at each stop, so go ahead and leave a comment at each blog. Also, be sure to stop by
Fantasy Literature (chapter six)
  where you can also win the amazing steampunk "AC Bracer" devised by Roger Brown at
Steampunked Out
.
The tour runs Monday through Friday, so be sure to check back here Monday, for a link to chapter ten!
Chapter Nine: Rabid Reads
Chapter Eight: All Things Urban Fantasy
Chapter Seven: I Smell Sheep
Chapter Six: Fantasy Literature
Chapter Five: A Book Obsession
Chapter Four: The Qwillery
Chapter Three: Tote Bag 'n' Blogs
Chapter Two: Fiction Vixen
Chapter One: Candace's Book Blog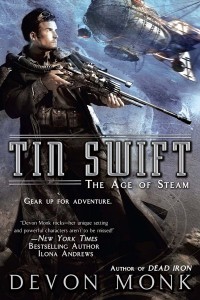 ***********
Other Excellent Things
I will probably spend this weekend trying to tame our yard. Our house sits on a fairly large lot. The lot contains many of the original plants, bushes, and trees from when the house was built back in the 1930's.  Over time, those bushes, plants, and trees have gotten pretty comfortable, maybe even a bit cocky. As a matter of fact, when left unchecked, they tend to go a little "jungle" on us. Unfortunately, there are lots of party crashers in our yard, plants like English ivy, blackberry, wisteria, poison oak, and dandelions. This year, like most years, my plan is to cut everything back to its correct place, all the while sweating a lot, swearing a lot, and popping allergy pills like candy. Husband and I will probably get 70% of the yard work taken care of.  That adds up to about 5,000-6,000 pounds of trimmings and greenery.  Yes, we take down and haul away--by hand--a couple
tons
of weeds, branches, brickles and vines
every year
. And the yard still isn't as nice as I'd like it to be. But this is a battle I refuse to lose. So, to my fellow yard warriors out there, I salute you! May the blades of your shovels and sheers ever shine brightly, and strike fear in the roots of those unwanted greens.