TIN SWIFT Blog Tour
Today's chapter seven of TIN SWIFT's prequel short story, HANG FIRE is live! Remember, you can enter to win cool steampunk goodies at every stop, and at yesterday's stop (
chapter six
) you can also enter to win the amazing steampunk "AC Bracer" devised by Roger Brown at
Steampunked Out
.  You can
watch a video of its construction too
.
Chapter Seven: I Smell Sheep
Chapter Six: Fantasy Literature
Chapter Five: A Book Obsession
Chapter Four: The Qwillery
Chapter Three: Tote Bag 'n' Blogs
Chapter Two: Fiction Vixen
Chapter One: Candace's Book Blog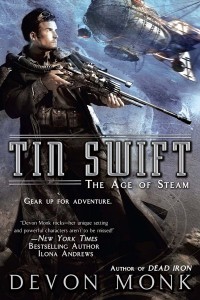 ***********
Other Excellent Things
Yesterday, my first-ever pod cast interview went live over at
Once and Future Podcast
with fellow urban fantasy and steampunk author Anton Strout. You can
click here
and take a listen if you want to hear us discuss books, writing, steampunk, urban fantasy...and oh, yes: I announce a new series I'm going to be writing!