TIN SWIFT Blog Tour
Today we have chapter six of TIN SWIFT's prequel short story, HANG FIRE ready for you!  There is also a FANTASTIC prize you can win. Along with the goodies I'm giving away, is a fabulous steampunk accessory by Roger Brown at
Steampunked Out
.  You can
watch a video of its construction too
. If you like steampunk, or are curious about it, check out his amazing 
workshop here
.  Thank you, Roger, for making a wondrous Age of Steam inspired piece!
Chapter Six: Fantasy Literature
Chapter Five: A Book Obsession
Chapter Four: The Qwillery
Chapter Three: Tote Bag 'n' Blogs
Chapter Two: Fiction Vixen
Chapter One: Candace's Book Blog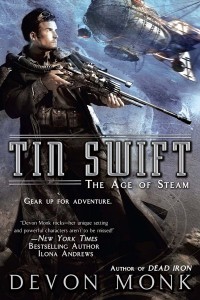 ********
Other Excellent Things
This!  This is the cool steampunk accessory you can win if you leave a comment over on
Fantasy Literature
.  This amazing piece was built by the genius, Roger Brown at
Steampunked Out
.  I love it and wish I could win it!!